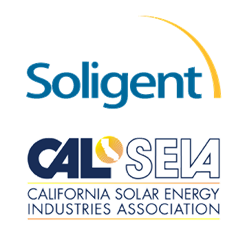 Our partnership with CALSEIA allows us to deepen our advocacy of critical solar policies that impact our California partners, from the ITC to net metering.
Sacramento, CA (PRWEB) August 11, 2015
Soligent, the industry leader in solar distribution in the Americas, has become the newest member of the nation's largest state solar power trade association, the California Solar Energy Industries Association (CALSEIA).
Over the past few years, Soligent has grown significantly, adding financing and software services to its existing line of premier equipment in an effort to more fully enable its solar partners. With over 5,000 customers across all 50 states, Soligent is a leader in the solar industry and is eager to support its vast network of partners by advocating for smart solar policies.
"We are proud to have Soligent join CALSEIA to support its mission of expanding the use of clean, solar technologies throughout the state. CALSEIA members are recognized as being true leaders in the California market as they promote high standards within the industry and advocate fair policies for solar consumers. We look forward to working closely with Soligent in continuing this work," says Bernadette Del Chiaro, Executive Director of CALSEIA.
Soligent joins CALSEIA after being carefully vetted and approved through the association's application process, which ensures member companies adhere to industry best practices. Becoming a member of CALSEIA will allow Soligent to better support its active network of thousands of California solar installers, energy efficiency firms, electrical contractors and roofers.
"We are thrilled to become a member of CALSEIA", said Jonathan Doochin, CEO of Soligent. "Our partnership with CALSEIA allows us to deepen our advocacy of critical solar policies that impact our California partners, from the ITC to net metering. We aim to be a strong presence, ensuring our partners have the champion they need to ensure positive and sustainable change for the industry."
ABOUT CALSEIA
CALSEIA is the nation's oldest state-based solar energy association. Since the 1970s, CALSEIA has advanced the common interests of the California solar industry, helping make California's solar market the most robust in the United States. Comprised of California solar contractors, manufacturers, distributors, developers, utilities, engineers, consultants and educational organizations, CALSEIA represents a diverse membership committed to growing the California solar industry. Through these partnerships, CALSEIA furthers its mission to expand the use of all solar technologies in California and establish a sustainable industry for a clean future.
ABOUT SOLIGENT
Soligent Distribution is the largest pure play solar distributor and end-to-end enablement platform in the Americas, supplying over 5,000 solar installers with equipment, financing, and software they need to accelerate the adoption of solar while making their businesses more competitive and profitable. Soligent has been a pioneer in the solar industry for decades and continues to drive the market forward with innovative solutions ranging from materials management to project financing. Headquartered in Northern California, Soligent provides solutions to help local and regional dealers grow. With advanced training, residential and commercial project financing, multi-site distribution centers in New Jersey, Northern and Southern California, Soligent is well positioned as a responsive, flexible solar partner. For more information, visit http://www.soligent.net or call 1-800-967-6917.