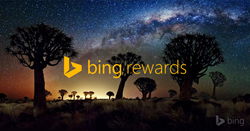 Detroit, MI (PRWEB) August 11, 2015
Quikly today announced that it is partnering with Microsoft Bing to celebrate its new Bing Rewards App by giving away one million credits to app users sometime soon.
The Bing Rewards app is a new way for Bing users to earn credits for trying new features from Bing or other Microsoft products and services. Bing Rewards credits can be redeemed for a variety of gift cards and other rewards.
The promotion is called a "Quikly," a unique campaign that rewards app users for acting fast. Starting today, anyone can sign up by downloading or opening the Bing Rewards App and looking for the "Credit Giveaway" located in the "Earn Credit" section. Follow the instructions to opt in and at some point soon, the Quikly will go live. When it does, participants will get a text with a secret link.
The first 20,000 app users who respond will score rewards ranging from 25,000 Bing Rewards credits for the fastest responder all the way down to 25 credits. The faster participants respond, the better the prize. Participants can even earn a competitive edge by sharing the promotion with friends and family.
Consumers can download the Bing Rewards App today to opt in to play for the 25,000 credits.
What is a Quikly? For Consumers
Quiklys are short-term offers to places you know and brands you love. The quicker you respond, the bigger the reward, and the more you share the campaign, the bigger advantage you get. Quiklys are released at random and players are notified the moment they go live by text message or email. Learn more here: https://www.quikly.com.
About Quikly: For Brands and Agencies
Quikly's simple and powerful promotional marketing platform leverages gamification elements to drive unprecedented engagement rates that produce predictable and immediate ROI. Quikly rewards consumers for fast response, providing a turnkey way for brands to not only boost activation within existing channels like email, social, mobile, and in-stores, but also increase brand awareness, acquire new customers, and generate meaningful revenue. Brands like DSW, Godiva, Domino's, Kraft, Microsoft, and Ann Taylor have seamlessly added Quikly to boost response rates and innovate their promotional marketing tactics. Brands and agencies can find us at http://www.moveQuikly.com.