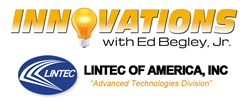 Phoenix, AZ (PRWEB) August 11, 2015
LINTEC announced today that they will be featured in an upcoming episode of Innovations with Ed Begley Jr, airing later this year, via Discovery Channel. Dates and show times TBA.
This episode of Innovations will explore exciting advancements in semiconductor technology. The segment will educate audiences on LINTEC's proprietary semiconductor manufacturing related products, which include an array of product lines featuring high-functioning adhesive tapes, such as Non UV and UV dicing tape, BG surface protective tape, backside coating films, and die attach specialty films.
"LINTEC's LC Backside Coating Tape has enabled over the last decade a reduction in IC thicknesses in mobile applications and without this technology it would have been difficult to reduce the overall thicknesses of mobile devices. We are excited to show this unique technology on Innovations." LINTEC of AMERICA President Mr. Masayuki Ohno.
"A leader in providing technical innovation, LINTEC offers solutions to customers that continue to push the envelope for performance and reliability," said Amanda Sweeney, Producer for the Innovations series. "We look forward to educating our viewers on the amazing things they're doing."
About LINTEC:
LINTEC turns dreams into reality through the creation of breakthrough technologies. Based in Tokyo, Japan, with offices in the U.S., the company is a market leader in the field of pressure-sensitive adhesives. Since 1934, Lintec's leading portfolio of advanced materials, industrial products/equipment, printing/variable information, and optically functional materials, has delivered advanced solutions for key sectors such as packaging, electronics, automotive, construction, semiconductor, and mobile devices. With over 2 billion USD in sales annually, LINTEC's global operations include the Americas, Asia Pacific, Greater China, Europe, and the Middle East. For more information, visit: http://www.lintec-usa.com.
About Innovations and DMG Productions:
Innovations, hosted by award-winning actor Ed Begley, Jr., is an information-based series geared toward educating the public on the latest breakthroughs in all areas of society. Featuring practical solutions and important issues facing consumers and professionals alike, Innovations focuses on cutting-edge advancements in everything from health and wellness to global business, renewable energy, and more.
DMG Productions (responsible for creating the Innovations show) includes personnel specialized in various fields from agriculture to medicine, independent films to regional news and more. Field producers work closely with experts in the field to develop stories. This powerful force enables DMG to consistently produce commercial-free, educational programming that both viewers and networks depend on.
For more information visit: http://www.InnovationsTelevision.com or contact Amanda Sweeney at: (866) 496-4065 x 824 or: Amanda(at)InnovationsTelevision(dot)com.