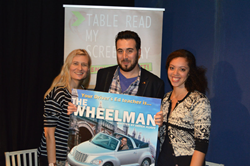 "Contests were the only way I could think of to break in at all."
Los Angeles, CA (PRWEB) August 20, 2015
Original Film has optioned The Wheelman, first-place winner of the Table Read My Screenplay – Screenplay Contest (sponsored by the International Screenwriters' Association).
Screenwriter Derek Asaff (Gotham Group) wrote the action/comedy - a riotous buddy film about a rule-following student driving instructor who falls victim to a car jacking - in the vein of Original's action properties (The Fast and The Furious and 21 Jump Street franchises).
"The whole point of writing a screenplay is so people can see it," laughed Asaff. "You don't make a blue print for a house you don't plan to build."
For seven years, Asaff's "blueprints" were sight unseen. After departing a secure job to hone his craft in Boston, the writer, who studied at the Grub Street Workshops and Harvard University, found he had few outlets for his finished screenplays.
"There are a lot of good screenwriters in Boston," said Asaff. However, the screenwriter felt that there were few resources for connecting talented writers to the industry.
"Contests were the only way I could think of to break in at all," he said.
ISA Founder Craig Pietrowiak was moved to sponsor the organization's Table Read My Screenplay - Screenplay Contest to combat this perceived lack of access.
"People that live in rural communities might not believe they have writing opportunities in Hollywood," said Pietrowiak. "But it doesn't matter where you live. The world is getting smaller."
The TRMS screenwriting competition provided one industry route for Asaff.
In winning Table Read My Screenplay – currently accepting submissions - Asaff was flown to the London Screenwriters' Festival. He attended networking events, workshopped with an acclaimed director, and watched professional actors perform The Wheelman.
The contest additionally provided a credential for the writer. Asaff used the win in promoting his script at an American Film Institute Pitchfest – an interaction that resulted in his signing to Gotham Group.
"Derek was already well on his way and we were happy to contribute to his success by inviting him into our Development Program," said Pietrowiak.
Having relocated to Los Angeles to obtain his Master's from AFI, Asaff believes community is the key ingredient to screenwriting success.
"Outside of a school, the ISA is trying to provide a support system for writers," he said. "They've sent my work around, sent it to other people. They're a sort of mini-Guild."

ABOUT THE INTERNATIONAL SCREENWRITERS' ASSOCIATION *
Screenwriting takes perseverance.
At the ISA, we believe in supporting screenwriters of any level and background. We provide writers with informational resources for career development and access to a growing, international community.
It can be an exhausting 'game' to keep abreast of every new contest, writing job, or corner of the screenwriting world. Our website acts as a unique, complete source – a portal for discovery.
Our dynamic site propels writers forward, providing:
A comprehensive list of free resources. From scripts libraries to teleconferences to Q&A podcasts and tutorials, we grant writers access to industry knowledge.
Writing gigs. Our featured opportunities invite screenwriters to submit their work and connect with producers and professionals.
A carefully curated selection of class offerings and consultant packages.
The latest success stories from our community members. We're proud to trumpet the triumphs of emerging screenwriters worldwide.
The ISA additionally provides an outlet for film and TV producers to seek and discover new talent.
We welcome you to join our community at http://www.networkisa.org, @NetworkISA.
For further press information, please contact:
Ayla Barreau – E: ayla(at)networkisa.org