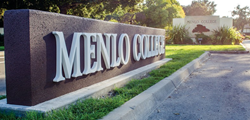 "Students find a top-notch education that is grounded in preparing its students for the real world"
Atherton, CA (PRWEB) August 10, 2015
The Princeton Review just issued its annual rankings of the best colleges in the United States, and Menlo College was again named as one of the best colleges in the West. This marks the seventh straight year Menlo College was accorded recognition as part The Princeton Review's feature, "2016 Best Colleges: Region by Region."
"Seven years of a 'Best in the West' ranking from The Princeton Review is a credit to the strength of Menlo College's programs," said President Richard A. Moran. "Our strong academic base strengthened by a great internship experience, leadership opportunities in athletics, and our location in the midst of a world-class high-tech environment make us a perfect combination for prospective business students."
In the profile for Menlo College on its site, The Princeton Review writes that students find a "top-notch education that is grounded in preparing its students for the real world through a liberal arts-based approach to business education. Menlo's size also allows it to cultivate a 'family atmosphere,' in which you get to know everyone."
###
About The Princeton Review
Founded in 1981, The Princeton Review (http://www.princetonreview.com) is a privately-held education services company headquartered in Framingham, MA.
About Menlo College
Menlo College was established in 1927 in Atherton, California as a small, private, non-profit school that focuses on business education with a strong liberal arts emphasis. Located in the heart of Silicon Valley thirty minutes south of San Francisco, Menlo has been named among the "Best Colleges in the West" by The Princeton Review seven years running and a U.S. News "Best Regional College" for the last four years. http://www.menlo.edu