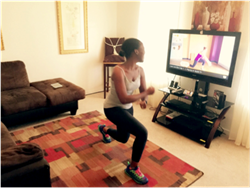 By integrating with multiple devices, we're creating 24/7 on-demand fitness with a real trainer in your pocket and on your wrist.
Blacksburg, Va. (PRWEB) August 11, 2015
Fitnet, the award-winning fitness app that combines biometric sensors to track performance, workout buddies and trainers is experiencing a 50 percent increase in overall engagement when clients utilize the app across multiple devices. The fitness app launched AppleTV and Google Chromecast integration in its 2.0 version in late 2014, earning it a featured spot on both Google Play and iTunes. In early 2015, the app once again received top billing for its exceptional Apple Watch integration. Thousands of Fitnet clients who previously only engaged with the app on their smartphone or tablet, now use Apple Watch, Google Chromecast or AppleTV to access the on-demand fitness app's 250 free workouts or weekly fitness challenge. By participating in workout videos via the method that best suits a user's lifestyle, app engagement and client success ultimately increase.
For example, Fitnet clients using Apple Watch spend 60 percent more time in exercise sessions than those without. Furthermore, a recent Google case study revealed Fitnet clients utilizing the app's integration with Chromecast spend approximately 35 percent more time in exercise than phone and tablet users, proving that an integrated approach to fitness in the digital age is key to keeping consumers motivated and accountable to their personal fitness goals.
"Our goal at Fitnet is to make exercising convenient and fun," said Bob Summers, chief geek and founder of Fitnet. "Other Uber-like on-demand services such as delivery, beauty and grocery apps are serving up tailored conveniences. By integrating with multiple devices, we're creating 24/7 on-demand fitness with a real trainer in your pocket and on your wrist."
The convenient and comprehensive mobile fitness experience is accessible, easy-to-use and fun for all ages and skill levels. Fitnet is available on an iPad, iPhone, Android, Apple TV, Google Chromecast and Apple Watch. A top-rated app on both Apple and Android in 148 countries, Fitnet has helped users complete 1.3 million minutes of exercise and burn over 5 million calories since January of 2014.
"As a busy wife and mother of four, I was in search of an app that offered a variety of workouts to add to my fitness routine, as well as features that would allow me the flexibility to perform my workouts wherever and whenever I had the time to get them in," said Fitnet power user, Ra-Chell D. Turner. "My favorite place to do a Fitnet workout is in my living room mirroring the workouts via my Apple TV. It's been great to actually look forward to a workout. I find myself smiling and excited before I open the app."
The app gives clients access to over 250 workouts for free, and for only 99 cents per week, clients can participate in weeklong workout challenges. Furthermore, Fitnet clients can further customize their experience by hiring a personal trainer through the app starting at only $10/month, a price way below current industry standards. These features not only gamify the experience, but create a global fitness challenge like no other that keeps clients accountable.
Fitnet is available now as a free download with over 250 workouts and counting on iTunes App Store, Apple Watch App Store and Google Play.
About Fitnet
Launched in 2014, award-winning Fitnet is the only fitness app that delivers a personal fitness experience combining wearable technology, biometric sensors, fitness coaching and online workout buddies. The comprehensive fitness solution is accessible, easy-to-use and fun for all ages and skill levels. The app's cost-effective tools provide accurate and real-time feedback, which motivates clients to reach their health and fitness goals anytime, anywhere. The Fitnet application is used in over 200 countries and its clients have collectively burned over 5 million calories since the launch on January 1, 2014. For more information, visit fit.net or follow @fitnethealth on Twitter.