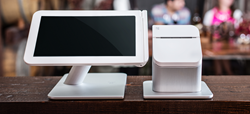 "The Clover POS is truly a state-of-the-art tool that will make hospitality management that much more efficient, streamlined and profitable." -- Demetri Dale
Houston, TX (PRWEB) August 11, 2015
Berkel Sales and Service now carries the new, cutting-edge Clover POS system capable of drastically changing the way retailers manage their sales, inventory, and workforce.
The system offers very fast transaction processing, which can increase sales by speeding up customer waiting lines. Lines are also diminished by enabling off-site, mobile orders and tabletop add-on orders. Wait staff can be equipped with tablets to enter customers' orders, and customers can pay without ever leaving their seats. Menu items, daily specials, and "happy hour" can all be announced electronically, and numerous optional apps enhance the already high-tech system even further.
Integrated programming calculates inventory on a sale-by-sale basis, handles employee scheduling and "shift swapping," and aligns with social media outlets to facilitate customer-staff interactions and to advertise the business by a sort of "online word-of-mouth" strategy.
"Berkel Sales and Service is pleased to offer this exciting new product to its customers in the hospitality industry," said Demetri Dale of Berkel Sales and Service. "The Clover POS is a state-of-the-art tool that will make hospitality management that much more efficient, streamlined and profitable."
The sleek POS hardware is decked out in a brushed aluminum body with white glass accents. The station consumes less than a cubic foot of space and weighs in at only five pounds. It is equipped with an 11.6-inch, touchscreen with a built-in, high-resolution camera that is capable of reading barcodes or scanning QR codes. The product features a card-swiper as well as a "maximum security" cash drawer.
A high-speed, thermal printer, a secondary kitchen printer, and handheld scanners are among the many available add-ons. Four USB ports, an audio jack and speaker used with some of the apps, and full connectivity via Bluetooth, Wi-Fi, or Ethernet ensure constant communication and connectivity.
One of the most important aspects of the Clover POS system, however, may well prove to be its EMV chip-and-pin credit card capability. A recent study by Wells Fargo found that 51% of 600 surveyed small business owners were completely oblivious to the October 1st, 2015, deadline for accommodating chip-and-pin credit card payments. Retailers who fail to do so may become liable for all fraudulent charges made at their establishments.
"The Clover POS is poised to increase customer loyalty through innovative conveniences, boost retail profits by speeding up sales and harvesting extra sales from off-site clients, and to give managers the ability to monitor employees and customers anytime and from any location," said Dale.
Berkel offers free demo of the product online.
About Berkel Sales and Service: John Dale established Berkel Sales and Service in 1974 in Houston, TX. His new company grew rapidly almost from the beginning and came to specialize in such areas as selling food processing, packaging, and weighing equipment, servicing said equipment, and boosting retail efficiency through high-tech hardware and software. Berkel has earned much respect over the years for excellence in its niche industry, and it announces its mission with the motto, "We sell the best, and service the rest."
Currently, Berkel is assembling a massive online library of service and operation manuals, spec sheets, and other information pertinent to their area of expertise. The recent announcement of the Clover POS distributorship is their latest endeavor.
To contact Berkel Sales and Service, visit http://www.berkelsalesservice.com or call 800-392-5435.