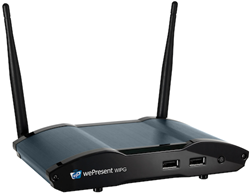 Recognition with an award at InfoComm 2015 from rAVe Publications is a strong vote of confidence and admiration.
Dallas, TX (PRWEB) August 12, 2015
wePresent is proud to announce that the WIPG-2000 wireless presentation unit has been selected as rAVe Publication's Best New Wireless Product of the Year, only a month after winning two Best of Show awards at InfoComm 2015. On July 27th, rAVe Publications revealed that they selected wePresent's updated flagship model as the standout in wireless products at InfoComm. The WIPG-2000 was selected from a field of hundreds of competitors to receive accolades for its many innovative and unique features.
The new WIPG-2000, which was officially released to the public on July 16th, features new firmware for the unit itself, as well as an update to the MirrorOp Presentation software for iOS and Android devices. These updates give the unit unique features within the realm of wireless presentation, including full-device mirroring for Apple iOS via AirPlay, AES-128 bit encryption, and a more streamlined connection for first-time users that is as simple as typing an IP address. The new firmware also adds the ability to save any onscreen annotations to a USB drive, allowing users to take their presentations with them.
The updated MirrorOp software adds the ability to scan and search for wePresents available on the local network, while also making it easier to traverse subnets on the same internal network. This functionality makes the WIPG-2000 the ideal wireless presentation solution for users who move from room-to-room, such as teachers or pro-ject team leaders.
"Recognition with an award at InfoComm 2015 from rAVe Publications is a strong vote of confidence and admiration from one of the AV industry's leading publications," said Eva Cannon, Director of Marketing for wePresent's US office.
The unit was also recognized for many of the features that made the previous generation a standout in the field of wireless presentation, such as the ability to stream video remotely at a steady 30 FPS, the ability to annotate live while presenting, and to save those annotations to an inserted USB drive. A firmware update was released for most existing WIPG-2000 units in order to give them much of the functionality of the new units, with the firmware updates rolling out at the same time as the newest WIPG-2000 units and MirrorOp software updates.
The WiPG-2000 previously received 2015 Best of Show awards from AV Technology Magazine and Sound & Video Contractor. AV Technology noted the WIPG-2000s' user-friendliness across platforms, as well as the ease with which it integrated with existing network architecture.
For more information on wireless presentation solutions by wePresent, visit the company's official website at http://www.wePresentWiFi.com.
About wePresent
wePresent™ is a leading provider of wireless presentation systems across the globe. The com-pany's product line offers solutions that enable end-users to move away from cables and con-nections and move into the world of wireless presentations and collaboration. wePresent™ al-lows up to 64 users to connect and give a wireless presentation, in full 1080p HD, to the dis-play from ANY device, and is compatible with PC, Mac, iOS, and Android.
More information about wePresent is available at http://www.wePresentWiFi.com
Follow wePresent:
Facebook: http://www.facebook.com/wePresentWiFi
LinkedIn: https://www.linkedin.com/company/wepresent-us
YouTube: https://www.youtube.com/user/USwePresent