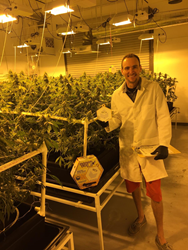 SmartBee Saved Our Crop - Paul Churchill, AMA GM
Las Vegas, Nevada (PRWEB) August 12, 2015
The Alternative Medicine Association (AMA) MMJ grow facility in Las Vegas, NV revealed that the SmartBee system was the major factor in saving their crop when an A/C unit failed. The AMA is the first Nevada state medical marijuana approved growing site. The installed SmartBee® products includes the Hive™ controller, the LTH (Light Temperature Humidity) and CO2 sensors, plus a Water Content Sensor and several Stinger™ Smart Strips in which each socket is programmable and allows associated devices to be controlled. The complete SmartBee® system integrates all the SmartBee® wireless sensors into a mesh networked system that enables the AMA to benefit from a Networked Garden™. The system allows for remote wireless monitoring and control of various environmental aspects of the grow room using a smart phone, tablet or PC.
According to Paul Churchill, the AMA General Manager & master grower, the SmartBee® system in its first month of use has already saved their crop when an air conditioning unit in a grow room failed late at night. The SmartBee® LTH sensor alerted when the temperature reached a preset threshold and sent an email notification. "The SmartBee system paid for itself in the first month by saving our crop at a critical stage of its growth" said Paul Churchill. As the AMA facility is built-out, they plan to continue to use SmartBee® systems to enable remote monitoring and control. "The SmartBee User Interface is easy to understand and use, plus the system gives us all the data we need to effectively run our facility, protect our crop and increase our ROI", commented Churchill. "The Smartbee system was easy to set up, understand and gives us the data we need to maximize our grow". The 10,000 sq ft facility has 160 lights which are divided among 8 flowering rooms plus a propagation & vegetation room, drying/processing/curing area and a production facility.
SmartBee Controllers has been installing SmartBee® systems in greenhouse & grow facilities in California, Colorado, Michigan, Nevada and Washington through its Commercial Consulting Division. Commercial operations from several dozen lights to 1000-light facilities are working with SmartBee Controllers to install the SmartBee® system for more control of their grow environment. With the mesh network, SmartBee® systems get stronger as more sensors and smart power strips are employed. Interested commercial growers should contact the SmartBee Controllers Commercial Division for more information and a free quote.
The products are sold under the SmartBee® brand through all major grow stores in the U.S. and Canada or directly through http://smartbeecontrollers.com/how-to-buy/
To learn more about the SmartBee® Controller and Sensors, visit http://smartbeecontrollers.com.
To see the SmartBee product whiteboard animation, go to https://www.youtube.com/watch?v=PmL9rDZhg9A
Check SmartBee out on these social media platforms:
https://twitter.com/smartbeecontrol
https://www.facebook.com/SmartBeeControllers
About Swarm Technologies LLC
Swarm Technologies LLC (DBA SmartBee Controllers) is a privately-held, world leading developer of wireless technologies using mesh networking technology. The Company is deploying these wireless technologies in a wide variety of vertical markets. The company is headquartered in Las Vegas, NV.