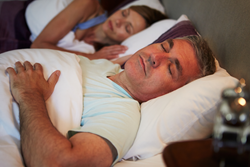 "This approach to treating sleep apnea is just another way that dentists can promote total wellness and general health." - Dr. Richard Steinberg
Ellenton, Florida (PRWEB) August 11, 2015
North River Dental now offers advanced, minimally invasive sleep dentistry treatments for patients who suffer from sleep apnea. Rather than relying on CPAP machines or surgery to treat sleep apnea, our team of highly experienced dentists create custom-crafted mouthpieces that patients can wear as they sleep. These mouthpieces improve a patient's ability to breathe, thereby reducing sleep apnea and its symptoms.
"This approach to treating sleep apnea is just another way that dentists can promote total wellness and general health," Dr. Richard W. Steinberg said. "That common sense, holistic approach tends to be most helpful."
Sleep Apnea Should Be Taken Seriously
Sleep apnea doesn't just cause loud or excessive snoring. It's a serious health condition that can affect total wellness.
When a person suffers from sleep apnea, he or she experiences frequent interruptions in breathing that can result in a poor night's sleep. When a person with sleep apnea is awake, he or she may experience chronic fatigue, mental fogginess, and headaches. Over a long period of time, this can have a negative impact on your general wellness, making hypertension, weight gain, and other health problems more likely. This is why it's important to have sleep apnea properly diagnosed and treated.
A New and Less Invasive Approach to Sleep Apnea Treatment
At North River Dental, our approach to treating sleep apnea involves the latest non-invasive therapies, including state-of-the-art oral appliances and advanced dental technology. Sleep apnea appliances are custom crafted to fit a patient's mouth. When a patient wears the mouthpiece, it repositions the jaw, improving the passage of air and reducing obstructions that result in snoring and sleep apnea.
"The mouthpiece is a simple and elegant solution to sleep apnea," Dr. Steinberg said. "It allows patients to experience a good night's sleep without discomfort or major hassle."
Ideal for People Who Do Not Like the CPAP Machine
Many people who use a CPAP machine for sleep apnea find it uncomfortable because of the bulkiness of the face mask. In addition, the sound of the CPAP machine can be a major impediment to a restful, good night's sleep. If a patient would prefer to avoid the use of a CPAP machine or has tried using a CPAP machine with poor results, the use of sleep dentistry mouthpieces may be ideal.
Sleep Dentistry That's Affordable and Effective
Thanks to modern techniques such as digital impressions and computer-guided fabrication, along with great financing options, getting a sleep dentistry mouthpiece is easy and affordable. This means that patients are able to get a good night's sleep and not have to worry about a major financial burden as they're improving their health.
"We work closely with patients with all dental therapies, discussing procedural risks and benefits as well as financial matters," Dr. Steinberg said. "Sleep dentistry means that we help patients get a good night sleep, and we work to make this service as affordable as possible for patients."
Schedule a Sleep Dentistry Consultation at North River Dental
For more information about treating sleep apnea through the most advanced sleep dentistry options possible, contact North River Dental today. The practice can also be reached directly by using the information provided below.
North River Dental
3030 U.S. 301
Ellenton, Florida 34222
(941) 722-0502
Originally posted by Richard Steinberg