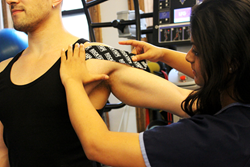 New York, NY (PRWEB) August 12, 2015
NYC Physical Therapist Swapnali Shinde MPT has been treating New Yorkers using proven, effective and cutting edge physical therapy treatments for over 6 years. Practicing in the heart of Manhattan, she has been working alongside doctors, chiropractors, and massage therapists, as an integral part of a combined, individualized approach to helping people overcome pain and injuries.
P.T. Swapnali Shinde, who works with a team of in-house specialists, has been able to provide effective, long term pain solutions for her many satisfied patients. She has found that treating each patient with a focus on addressing the root of the problem, and taking in to account lifestyle goals has been the most effective way to treat pain and injuries. This approach has also encouraged patient participation, which P.T. Shinde believes has a major impact on treatment outcome.
One type of patients P.T. Shinde sees often, are competitive athletes. A major portion of the people she sees for treating both acute and chronic injuries are athletically inclined, and want to continue being active. She has treated adventure racers, marathon runners, bodybuilders, cross fit competitors, as well as people just looking to get back in to shape after long periods of inactivity. Recently P.T. Shinde has added a new tool to her array of treatment protocols. Performance Movement Techniques (PMT), "introduces the concept of movement therapy and performance enhancement to creative simple and effective home care mobility and stability programs. Tools (balls, bands, rollers and kinesiology tape) will be used to tackle an evidence-informed, joint by joint approach to movement and functional rehabilitation. Movement assessments will be used to identify dysfunctional movement patterns. We then look closer with joint range of motion testing to determine if movement dysfunctions are because of joint fixation, lack of soft tissue extensibility, or poor stability in the human system." - Rock Tape PMT
P.T. Shinde chose the PMT certification because she has been using soft tissue therapies like foam rolling and self myofascial release techniques as part of her physical therapy treatment protocols, especially as a recovery and mobilization aid for soft tissue injuries. She has also been using therapeutic taping products and tools, like the ones made by RockTape for a number of years. When it comes to athletic performance and recovery she says "There are so many ways that people can treat and even prevent injuries and chronic painful conditions through implementing simple, but comprehensive protocols. When treating my patients I make sure to address movement and postural compensations as well as intramuscular adhesions, and over/ under active muscles. This approach also helps to prevent injuries due to compounding and compensations. So PMT was a natural certification for me to pursue."
P.T. Swapnali Shinde is already utilizing the PMT principles at Living Well Medical, an integrated Manhattan practice. She has found the PMT approach fits in well with the approach her fellow specialists use to treat patients using an integrated, holistic approach. For additional information on P.T. Swapnali Shinde, physical therapy, PMT, or to schedule and appointment, visit: livingwellnewyork.com