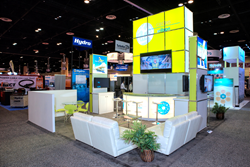 Setting Absolute Exhibits apart from other exhibit builders is our upfront, one-price for everything (design, production, graphics, furniture and AV rentals, shipping and installation and dismantle) with no post show billing - Todd Koren, CEO
Tustin, CA (PRWEB) August 12, 2015
With 22,000 attendees from 115 countries and 1400 exhibitors Power Generation Week is the largest power generation event in the world. For over twenty years it has remained the most trusted name in power events for linking key suppliers and service sources with prominent industry decision makers. This is face-to-face networking and unmatched admittance to the industry's most anticipated platform for lead generation and new business development.
"Setting Absolute Exhibits apart from other exhibit builders is our upfront, one-price for everything (design, production, graphics, furniture and AV rentals, shipping and installation and dismantle) with no post show billing," explains Todd Koren, CEO. "Our policy of no post show billing removes much of the exhibitor apprehension and unease of working within the great unknown of the trade show floor."
As Power-Gen International is a trade show that features many foreign exhibitors, Absolute Exhibits, a trade show booth builder, retains a large group of foreign language speaking account executives in their sales offices and traditionally builds exhibits for many foreign-based clients. Our familiarity with languages and cultures has helped immensely in growing exhibit business throughout the world. Among the languages spoken are included Spanish, Portuguese, German, French, Japanese, Korean, Vietnamese, and Arabic. In a multi-cultural environment such as Power-Gen International the Absolute Exhibits staff has proven to be far more helpful than just building a trade show exhibit. Absolute Exhibits, as an exhibit builder, will be fabricating everything from custom exhibits solutions to system exhibit rentals for clients from the United States and around the world.
About Absolute Exhibits
A leading exhibition firm, Absolute Exhibits provides clients with turnkey solutions for designing and fabricating exhibits while managing the entire trade show experience as a one-source trade show and convention exhibit resource. Established in 2000, with locations in Southern California, Las Vegas, Orlando, and Bucharest, Romania, Absolute Exhibits rents and sells custom and system exhibits at over 300 shows in the USA and in countries around the world.