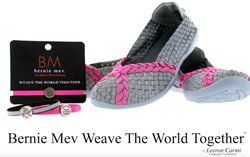 New York, NY (PRWEB) August 11, 2015
Bernie Mev is excited to announce their "Weave The World Together" charity campaign. The campaign launches at retail September 2015 with 100% of the net proceeds from the sales of the Bernie Mev "Catwalk Braid" flat ($59.95) in silver/rose gold and pewter/fuchsia being given to charity. Each pair sold comes with an information card and a fuchsia Weave The World Together bracelet. 2000 pairs have already been purchased here in the United States and internationally by retailers including Zappos, Dillard's, and a variety of specialty boutiques for the Fall season. Information on the campaign and additional imagery can be found on https://www.facebook.com/BMWTWT.
Inspired by her desire to give back, seventeen year-old Leeron Carmi, daughter of Bernie Mev designer Rachel Carmi and CEO Itamar Carmi, has initiated an exciting campaign to support those suffering from cancer. "We don't say this often, but it's time to take our shoes off and walk in those of others. We recognize the challenges people with cancer are facing on a daily basis and want to help them build stronger foundations to lead happier lives. As a company Bernie Mev prides itself on creating unique, stylish, woven shoes. Our woven material provides the utmost comfort, support, and flexibility for your feet and offers the perfect foundation for you to start your day with the right step. Unfortunately, not everyone enjoys a comfortable life. That is where Bernie Mev steps in. With the help of our customers we are giving 100% of our net proceeds from our Catwalk Braid shoe in silver/rose gold and pewter/fuchsia to charity. The funds will go directly to organizations aiming to help people battling cancer lead better lives," says Campaign Coordinator, Leeron Carmi. "Come help us Weave The World Together".
To kick off the campaign Bernie Mev is partnering with two cancer support organizations: MyLifeLine.org and Sharsheret.org. Going forward, the brand is looking to bring on additional charities each year to correspond with the release of new colors and new styles.
"We are honored that Bernie Mev has chosen MyLifeLine.org Cancer Foundation as a partner in the Weave The World Together campaign. MyLifeLine.org is a nonprofit organization that connects cancer patients and caregivers to their community of friends and family for social and emotional support. We provide free, online communication and stress reducing tools that allow patients and caregivers to share their journey and focus on healing. Since 2007, MyLifeLine.org has served more than 130,000 people globally in more than 20 countries. Together we are committed to serving the needs of the cancer community worldwide," says Marcia Donziger, Founder and Chief Mission Officer (http://www.MyLifeLine.org)
Elana Silber, Director of Operations for Sharsheret (http://www.sharsheret.org) is excited about the collaboration with Bernie Mev. "We are honored to participate in the Weave The World Together initiative, an inspiring campaign whose ultimate goal is directly in line with Sharsheret's mission. With the success of Weave The World Together, Sharsheret will continue to provide critical support and comfort, improving the quality of life for thousands of young women and families facing breast cancer every day."
Bernie Mev started out in the 1960s with his original factory located in the Bronx. At that time he was making shoes for all the big department stores and major retailers. In 2000, Bernie met energetic Itamar Carmi, owner of Medici Shoe Stores, a privately owned retail business with five locations in the New York area that specializing in imported Italian labels. When Bernie and Itamar came together, a spark ignited and for the next seven years they worked on building a company that would produce shoes that reflected their shared high standards of excellence. In 2007, Bernie Mev retired and sold his share of the business to Itamar and Rachel Carmi who as co-owners envisioned a groundbreaking technology in the form of an expandable, hand-woven upper with a memory foam foot bed in innovative color combinations and patterns in a wide array of shoe styles from high wedges to ballerina flats. Extremely successful at retail, the shoes are ultra-fashionable and very popular with a wide range of customers and sold at a great price point. Ever evolving, the Bernie Mev collection has expanded its unique woven aesthetic into children's footwear and handbags. (http://www.BernieMev.com)