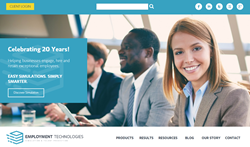 We are excited to launch our new website on the occasion of our 20th anniversary, signaling our continued commitment to being an industry leader.
WINTER PARK, FL (PRWEB) September 15, 2015
Employment Technologies, the pioneer and world's leading developer of employment simulations, announced today that it has launched a new corporate website at http://www.EmploymentTechnologies.com on the occasion of their 20th anniversary.
The all-new site creates an online presence that reflects the Company's commitment to provide the best technology in the industry, and to meet and exceed the needs of customers. Product lines are presented in a variety of formats, allowing for a highly interactive visitor experience. A gallery of success stories highlights how progressive organizations are using simulation to attract, hire, and retain the best people. The site is fully responsive, making it easy to navigate on a wide range of web browsers and devices.
Also a first, Employment Technologies is featuring a virtual blog, presenting compelling messages using avatar technology. While engaging readers on a variety of topics, the blog also inspires ideas for transforming and personalizing the hiring experience through simulation.
"In 2015, our company is celebrating its 20th anniversary," noted Joseph Sefcik, Jr., co-founder and president of Employment Technologies. "This milestone has given us the incentive to tell our story in a considerably more entertaining fashion and more accurately reflect what we are achieving for our customers today."
Employment Technologies staff and the creative team BIGEYE Studios in Orlando, Florida, are responsible for the website which seeks to continue delivering a superior level of customer service to existing partners, while engaging a new generation of clients.
ABOUT EMPLOYMENT TECHNOLOGIES
Employment Technologies is the inventor and world's leading developer of employment simulations. An unprecedented five-time national "Top HR Product of the Year" award winner, the company's EASy Simulations® are proven to hire the best, reduce training time, cut turnover, accelerate performance, and deliver the highest return on investment. EASy Simulations are designed for a variety of jobs and industries, including customer service, contact centers, financial services, retail, hospitality, healthcare, and more. For more information, please visit us at http://www.EmploymentTechnologies.com.