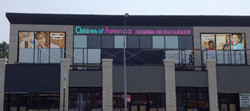 "Our childcare programming is second to none." said Jim Perretty, President of Children of America
Delray Beach, Florida (PRWEB) August 11, 2015
Children of America, the #1 Preschool in America, announced the launch of is newest childcare facility in New York City. "We've had a tremendous amount of families asking for a school in the city" said Jim Perretty, President of Children of America, "And we were happy to oblige". Currently, Children of America has five (5) schools in New York State so it only seemed right to expand into the city.
"Our childcare programming is second to none", Perretty said, "We have incorporated our proprietary program, COA Mind & Body Matters, which gives our families the very latest in educational techniques". The program integrates four (4) essential disciplines for maximum child development including curriculum modules, dynamic reading products, and a nutrition and fitness program.
Perretty went on to say, "We continue to bring cutting-edge learning techniques to the children we serve along with vigorous training for staff members. This keeps us on the forefront and give our families what they deserve, the very best in childcare".
COA childcare, will serve infants, toddlers, preschoolers and school-aged children for families in Queens County. A Grand Opening Event is scheduled at Children of America, 87-10 Northern Blvd., Jackson Heights, N.Y. 11372, Saturday, Aug. 29 from 10 a.m. to 2 p.m. The event will feature games and refreshments for the whole family with special enrollment offers like our $30,000 Tuition Giveaway, for the Back To School season. Tours will be available
during the event.
About Children of America Educational Childcare & Academy
Founded in 1997, Florida-based Children of America is a leading provider of high-quality childcare and after-school programs. With over 1,600 employees, the firm operates nearly 70 schools in Delaware, Illinois, Indiana, Maryland, Massachusetts, New Jersey, New York, North Carolina, Ohio, Pennsylvania, Virginia and Wisconsin. An industry pioneer, Children of America is a subsidiary of World Wide Child Care Corp. For more information visit our website or interact with COA on Twitter and Facebook.