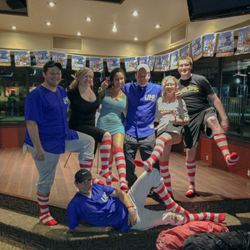 Sterling Heights, Michigan (PRWEB) August 11, 2015
During the weeks of June 15 to June 30, employees from UHY LLP's Michigan practice in conjunction with UHY Cares, purchased and sported nearly 200 pairs of red and white socks to be a part of the "Ronald Sock Challenge". The challenge is both an awareness campaign and fundraiser for the Ronald McDonald House Charities of Southeast Michigan. The certified public accounting firm raised over $3,000 in employee donations in just over a week. With UHY adding to the success of the challenge, the total amount raised by companies across Michigan is close to $20,000.
The challenge started as a friendly local office versus office competition for a good cause. But because it took place at the same time as UHY's National Leadership Conference (NLC), they turned it into a company-wide event and received contributions from their colleagues around the country. Employees at all levels had a great time "socking" co-workers (pay-it-forward concept), dressing up with their families and submitting creative photos to add to the fun of the competition.
Bob Potter, president of the mid-Michigan Chapter of Ronald McDonald House Charities, and Tom Alongi, active supporter of Ronald McDonald House Charities, were both instrumental to the success of the campaign at UHY. Bob even wore a pair of the socks during his speech at the NLC which resulted in the generous donations from the attendees of the conference. He also personally offered up a cash prize to the winner of the funniest sock photo (see attached).
"The Ronald Sock Challenge has raised thousands of dollars for the Ronald McDonald House of Detroit," says Jennifer Litomisky Executive Director of Ronald McDonald House Charities of Southeast Michigan. "Companies like UHY have been champions of the challenge and we are very fortunate to have their support. This challenge started in May and continues to be a successful fundraiser and social awareness campaign."
Ronald McDonald House recently opened a new location in Detroit, and the Ronald Sock Challenge is one component of the charity's expansion campaign. The new house will feature a much bigger living space than the current location and will allow families of sick children to feel more at home during a difficult time in their lives. Funds raised during the Ronald Sock Challenge will go towards the expansion of the house and making the families more comfortable during their stay. The goal for the expansion campaign is to raise $3 million by 2016 and they have raised nearly $2 million so far.
About UHY LLP
UHY LLP, a licensed CPA firm, provides audit and other attest services to publicly traded, privately owned and nonprofit organizations in a number of industry sectors. UHY Advisors provides tax and advisory services to entrepreneurial and other organizations, principally those enterprises in the dynamic middle market.
UHY LLP, operating in an alternative practice structure with UHY Advisors, forms one of the largest professional services firms in the US. While that scale might provide confidence for some clients, others tell us our greatest value is the way we bring these resources to bear to help address today's evolving business challenges. It's a philosophy we call "The Next Level of Service". To learn more visit http://www.uhy-us.com.
All of the above entities are members of UHY International ("UHYI"), a worldwide network of independent professional services firms that provide audit, tax and advisory services around the globe. UHYI is ranked among the top international accountancy networks and a proud member in good standing of the Forum of Firms. Collectively, our US operating entities (UHY LLP and UHY Advisors) are the largest independent members of UHYI with significant participation, bringing the power of our international network to serve the individualized needs of our clients.
UHY LLP is a licensed independent CPA firm that performs attest services in an alternative practice structure with UHY Advisors, Inc. and its subsidiary entities. UHY Advisors, Inc. provides tax and business consulting services through wholly owned subsidiary entities that operate under the name of "UHY Advisors." UHY Advisors, Inc. and its subsidiary entities are not licensed CPA firms. UHY LLP and UHY Advisors, Inc. are U.S. members of Urbach Hacker Young International Limited, a UK company, and form part of the international UHY network of legally independent accounting and consulting firms. "UHY" is the brand name for the UHY international network. Any services described herein are provided by UHY LLP and/or UHY Advisors (as the case may be) and not by UHY or any other member firm of UHY. Neither UHY nor any member of UHY has any liability for services provided by other members.
About RMHC
The new Ronald McDonald House of Detroit is a non-profit agency and serves as a "home away from home" for families that have children being taken care of at local hospitals. The new House had 28 large guest rooms with private bathrooms, a playroom, a teen room, communal living room areas, a guest kitchen, and a peace garden. Wireless connectivity allows families to stay in touch with loved ones and get updates on their children's care. Five extended-stay rooms with TVs and refrigerators are also available for parents whose children are undergoing long-term treatment at Children's Hospital.
A $10 daily fee is charged for a guest room and use of common areas including a kitchen, laundry room, playroom and entertainment areas. No family is turned away due to a lack of funds. A family walks into a house and they leave a home.