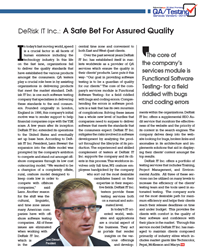 Our team at DeRisk IT Inc. work extremely hard to provide the best services available to our clients. We are honored to have been selected for this list and it is a true reflection of the hard work and dedication of all our employees.
Winfield, Alabama (PRWEB) August 12, 2015
Outsourcing Gazette Magazine has named DeRisk IT Inc. as one of the "25 Most Promising QA/Testing Service Vendors 2015" for its June-July 2015 focus issue. The magazine includes a one-page profile that provides an overview of DeRisk IT Inc. and the reasons it was granted this honor. Through their research for the selection process, Outsourcing Gazette Magazine picked those vendors who understand the client's processes and are able to align with them from the beginning of the software development life cycle. The intent of this feature is to cover industry trends and advice for companies looking to outsource their software testing and quality assurance services to independent vendors. Outsourcing Gazette is a magazine that reaches 24,000 subscribers in the United States, 80% of whom are directly involved in global outsourcing for their organizations.
Since 1998, DeRisk IT Inc.'s model has been to provide onshore, offsite software testing services for clients in the United States. Many software companies have encountered frustration in their business relationships with offshore companies due to poor communication, cultural differences, time zone differences, and hidden costs. The onshore model practiced by DeRisk IT Inc. was designed to improve upon these issues, thereby increasing efficiency and collaboration with the client.
DeRisk IT Inc. uses manual and automated functional testing to ensure that a company's developed applications are thoroughly tested and ready for release, whether through Agile or traditional methodologies. Software testers from DeRisk IT Inc. have experience in multiple industries such as healthcare, insurance, retail, and e-commerce. In addition to functional testing, DeRisk IT Inc. also offers project management services, environmental audits, SEO audits, and training.
In contrast to many outsourcing companies, the work is done in the United States by W2, full-time employees at DeRisk IT Inc. All software testers have to become certified in HIPAA Awareness for Business Associates and maintain this certification every two years, ensuring familiarity with ever-changing regulations and compliances and a necessity for proper testing for healthcare companies. Another requirement for DeRisk IT Inc.'s software testers is certification in at least the foundation-level of ISTQB, or International Software Testing Qualifications Board. The emphasis on certification allows clients to know that DeRisk IT Inc. employees are constantly working to improve on their knowledge and training in a very dynamic testing industry.
Lann Stewart, president of DeRisk IT Inc., spoke about the honor, saying "Our team at DeRisk IT Inc. work extremely hard to provide the best services available to our clients. We are honored to have been selected for this list and it is a true reflection of the hard work and dedication of all our employees."
DeRisk IT Inc. is partnered with automated software testing tool companies such as Borland/Micro Focus and SmartBear. For more information about the services provided by DeRisk IT Inc., visit http://www.deriskit.com