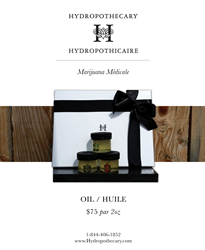 Gatineau, Quebec (PRWEB) August 11, 2015
Quebec-based medical marijuana producer, Hydropothecary, today became the first licensed cannabis oil producer to set a price for its new oil products.
Hydropothecary will sell cannabis oil for $75 for a 60ml (2oz) jar for most oil bases. In addition, the company will provide patients with customized products, upon request, based on their preferred food oil base and required strength of the medication.
"Hydropothecary is determined to show leadership in this new and evolving industry by setting a benchmark for price and customer service," says co-founder and CEO, Sebastien St-Louis.
"Our oil products not only set the standard on pricing, prescriptions can be customized, based on a client's preferences and needs. As always, we offer the best customer service in the industry, with free after hours and weekend delivery, a 24-hour hotline, satisfaction guarantee and guaranteed supply."
Health Canada granted Hydropothecary an oil production license on August 6, 2015. The company will commence shipping immediately following the granting of a sales license.
About Hydropothecary's New Cannabis Oil Products:
1. How long does one 60ml jar last ?
The number of treatments is based on prescriptions, but typically, a jar lasts for 12 treatments. If a patient who consumes 0.5g of Hydropothecary's dried product wishes to substitute it with an oil, they would take a teaspoon of oil. Of course, the comparison is based on the amount of THC present in the product (capped at 30mg/ml by Health Canada), and does not take into consideration the bioavailability of the THC or other factors.
2. How does cannabis oil and dried medical marijuana compare in terms of content?
It varies. For example, one teaspoon (5ml) of oil has about the same amount of THC as 0.5g of dried Bedtime, one of four Time of Day products. For other equivalencies, there are slight differences. Patients are encouraged to work with their doctor to find the dose that works for them.
3. How is the oil used?
Clients can ingest the oil by consuming it by mouth on its own or by including it with foods, such as salad, baked goods or other consumables, such as drinks. It is recommended that the oil is not heated above 130 ℃ in order to preserve the active ingredients.
4. Isn't it illegal to put cannabis oil in food made at home?
No. If a client has a valid medical document, they can legally prepare food with cannabis oil for their own use.
5. Is it illegal to sell edible products like baked goods that contain cannabis oil?
Yes. It is currently illegal to sell edible products made with cannabis oil.
6. Can oil be consumed any way other than by mouth?
No. Cannabis oil is a medicated food product and should be consumed by mouth for best results.
7. Is cannabis oil safe for everyone, including children, the elderly and those with compromised or depressed immune systems?
Cannabis oil is only recommended for use by those with a valid prescription who are under the care of a medical practitioner. Although Hydropothecary products are made in a peanut-free facility, it is important to indicate if the client is allergic to any base oils, such as olive oil, coconut oil or walnut oil.
8. What does cannabis oil look and taste like?
Hydropothecary's oil looks and tastes like premium oil purchased at the grocery store.
9. What oil base does cannabis oil come in?
Hydropothecary offers custom oils to clients. A prescription can be custom created by combining extracted cannabis oil from premium marijuana varieties with most any food oil, such as olive oil, coconut oil and walnut oil.
10. Where is it manufactured?
Hydropothecary manufactures cannabis oil on the Hydropothecary's Gatineau campus in a state-of-the-art lab, under the guidance of Dr. Shane Morris, VP of Scientific Affairs and Stakeholders Relations.
11. How is the cannabis oil manufactured?
Hydropothecary produces cannabis oil using dried premium medical marijuana product. The active compounds are extracted using a clean, green mechanical process. No solvents or additives are used. Once the process is complete, the extracted compounds are then added to food oil.
12. How is it shipped?
Hydropothecary stores its oils in 60ml (2oz) child resistant glass jars. From there, the products are shipped in the same luxurious and discreet packaging as Hydropothecary's dried products. Hydropothecary offers clients free overnight and weekend shipping, in addition to delivery during regular business hours.
13. How does Hydropothecary ensure quality assurance standards are met?
All batches of oil are third party tested by Health Canada-approved laboratories to ensure consistent THC and CBD content and safety. Hydropothecary ensures the same high standards met with dried product are also met with oil products, as well.
Hydropothecary is a leading Canadian medical marijuana producer and distributor based in the National Capital Region, with facilities along Rivière des Outaouais in Gatineau, Quebec. Hydropothecary offers around-the-clock concierge service and guarantees supply to all its customers. With a strong commitment to R&D, Hydropothecary has four Time of Day dried products: Good Morning, Midday, After Dinner and Bedtime. Prices are $15/g. Hydropothecary also offers customized cannabis oil, based on the same Time of Day range. Prices are $75 per 60ml (2oz) jar for most oil bases. Hydropothecary is a registered business name of The Hydropothecary Corporation.