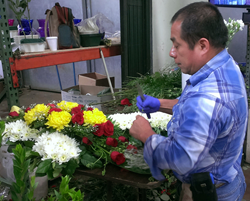 Buying funeral flower arrangements direct from a wholesale and discount flower market is a gorgeous, top quality, affordable option that looks expensive.
Los Angeles,California (PRWEB) August 11, 2015
California Flower Mall, a 45 vendor wholesale LA flower mart gives tips to save up to 70% off retail prices for flowers for funerals by shopping where florists go. Mark Chatoff, owner and president of California Flower Mall, says, "Southern California residents have the largest floral trade district in the U.S. right in their own backyard; buying funeral flower arrangements direct from a wholesale and discount flower market is a gorgeous, quality, affordable option that looks expensive. No one needs to spend more than they can afford in the fog of their grief," he cautions.
Affordable funeral flowers are one of many ways do-it-yourselfers can plan a meaningful, heartfelt memorial within their means. The non-profit Funeral Consumer Alliance gives a wealth of practical consumer advice to help grief stricken families make debt-free, affordable or do it yourself funeral spending choices. "Whether you spend $600 or $10,000 on a memorial, you'll love and miss the deceased just as much," advises Josh Slocum, FCA executive director.
Gersain Bustos, owner of Growers Direct at CFM says, "We help customers match their budget with their DIY comfort level – some want cut flowers, greenery and supplies to arrange themselves; others need the full support of an onsite florist to make wreaths, casket sprays, crosses, hearts or special designs – there's no one size fits all approach during this difficult time." Chatoff shares these DIY tips to celebrate the life of the deceased and comfort loved ones with flowers:

Ask about the family's faith or cultural traditions. Contact the mortuary, funeral home, a close family friend, or religious leader to find out if flowers are accepted and what types are appropriate. For example, white flowers – never red -- are appropriate for Asian funerals. Crosses are inappropriate for the Mormon faith. Flowers are not acceptable at Jewish funerals.
Find out exactly when and where you'll deliver the flowers. Will the memorial begin with a viewing or wake, at a church, chapel or burial service?
Flower vendors can suggest designs, colors and flower choices in your budget range. Or show them a photo of a desired design.
Shop around to compare prices. Prices for the exact same arrangements do vary.
Bargaining is acceptable. Ask vendors to work with you, many have lost loved ones themselves. Offer a reasonable price for display flowers – some vendors give "floor sample" discounts.
About California Flower Mall
Watch a video on how to buy cheap funeral flowers at http://www.californiaflowermall.com. California Flower Mall, located at 825 San Pedro Street, is one of the largest DIY wholesale flower marts in Downtown Los Angeles' 8 block Flower District trade community.