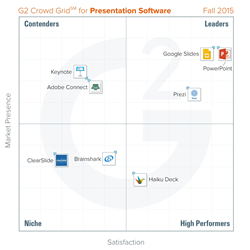 CHICAGO, IL (PRWEB) August 11, 2015
The first Grid℠ report for presentation software, published today by business software review site G2 Crowd, ranks eight products to help purchasers in their selections.
PowerPoint, Google Slides and Prezi were named Leaders in the report, receiving strong customer satisfaction scores with a large market presence. Haiku Deck was named a High Performer, earning strong customer satisfaction marks with a smaller market presence score. PowerPoint earned the highest overall satisfaction scores.
The Grid℠, created from G2 Crowd's software review platform, factors in customer satisfaction reported by users, along with vendor market presence determined from social and public data to rank products. The Fall 2015 report is based on more than 440 reviews written by business professionals and students.
Presentation tools are designed for businesses and organizations to present speeches, information, reports, and other projects. Professionals and students all over the world utilize presentations on a regular basis to create visual aids to engage their audiences.
Of the more than 35 vendors listed in G2 Crowd's presentation programs category, the ranked products each received 10 or more reviews to qualify for inclusion on the Grid℠.
Across all providers, reviewers reported the product they use meets their requirements at an average rate of 87 percent, and on average reviewers said they were 85 percent likely to recommend the product they use.
Some highlights from the presentation software reviews on G2 Crowd:
"First off, [PowerPoint] is extremely easy to understand and use...There are...videos that explain how to do everything…[and Microsoft help teams available] 24/7 to help answer all your questions. From intro positions to corporate executives, [PowerPoint] provides an [exorbitant number] of layouts to enhance any business presentation."

Matthew Koscak, Customer Service Representative at The Mah-Nauh-Tee-See Club
"Google Slides does an impressive job of allowing real time communication in the workplace, allowing multiple individuals to work on the same presentation at once. This allows for the addition of multiple slides at once and allows [everyone] to see what work has already been done in an instant."

Sean Waterton, Undergraduate Research Assistant at Lancaster Group
"Prezi lets you create presentations that are unique, and can communicate your message so much better than a typical slide presentation. It's free and easy to use, with features like embedded audio and video and even real-time remote presenting and collaboration. I like that it is cloud-based, so I can access my presentations anywhere, and know that they are backed up and secure."

Lisa Larson-Kelley, President at Kelley Green Consulting
"Haiku Deck makes it easy to find relevant imagery to support a visual narrative. Its user interface is ...approachable...and it helps you rapidly assemble elegant, aesthetically pleasing slides. It's not going to turn anyone into a graphics maestro, but its tasteful, restrained templates make you less likely to commit visual faux pas. If you're tired of wrestling with feature-laden presentation software, give [it] a try."

Victor Panlilio, Client Relationship Manager at ComplyWorks Ltd.
Satisfaction rankings are generated from the user reviews, and market presence is calculated from vendor size, market share, and social impact. Based on a combination of these scores, each software solution is categorized as a Leader, High Performer, Contender, or Niche.
Access to premium research on presentation tools research can be purchased on the site for $599. This offers the original data for filtering and weighting, as well as individual profiles of each platform with the most helpful positive and negative reviews, detailed company information, user satisfaction ratings, feature scores and customer metrics. Future Grid℠ refreshes will provide updated rankings based on the latest reviews and social data.
Be sure to check out the new Grid℠ for the best presentation software and subscribe to the premium research.
_______________
About G2 Crowd, Inc.
G2 Crowd, the world's leading business software review platform, leverages its 37,000-plus user reviews to drive better purchasing decisions. Technology buyers, investors, and analysts use the site to compare and select the best software based on peer reviews and synthesized social data. Co-founded by the founder and former executives from SaaS leader BigMachines and backed by roughly $12 million in capital, G2 Crowd aims to bring authenticity and transparency to business technology research. For more information, go to G2Crowd.com.