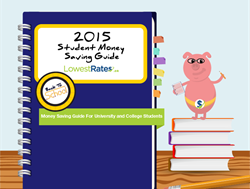 Our 2015 guide has more ways than ever for students to cut their expenses and be smarter about their money.
Toronto, Ontario (PRWEB) August 11, 2015
LowestRates.ca today announced the launch of its annual Student Money Saving Guide. Now in its third year, the guide builds on the success of last year's edition, which was widely shared and read at campuses across the country.
With the very best money management wisdom gleaned from Canada's personal finance community, the coolest apps, special "guide only" offers, and fun, interactive features that help students understand where their money is going, the 2015 guide has all the tips and tools students need to keep their finances -- and their futures -- looking good.
"Student debt levels are up sharply over the last decade, so it's no surprise that young Canadians are turning to our annual Student Money Saving Guide to help stay on the right financial track during the school year. Our updated 2015 guide has more ways than ever for students to cut their expenses and be smarter about their money," said Justin Thouin, CEO of Lowest Rates Inc.
This year, the guide features six sections:

Scholarships and Bursaries: Learn how to get the right scholarship or bursary for your unique needs no matter where you live or what school you want to attend.
Housing: Find out how to cut housing expenses and see what other students are paying at dorms and apartments across the country.
Transportation: Discover ways to get to class on the cheap, and see how transportation expenses can vary between schools.
Food: Save $100's with these tips and tools for spending less on groceries, eating out and more.
Budgeting: Learn the ins and outs of tracking expenses, making a budget and sticking to it.
Day-to-Day Spending: Uncover the best strategies for keeping everyday spending under control, compare the best cell phone plans and student credit cards, find ways to save on books and more.
This year's Student Money Saving Guide is part of LowestRates.ca's ongoing mission to create useful and engaging content aimed at helping Canadians of all ages master their personal finances.
To download the 2015 Student Money Saving Guide, click here:
About Lowest Rates Inc.
Based in Toronto, Canada, and founded in 2012, Lowest Rates Inc., through its websites LowestRates.ca and LowestRates.com, provides a free independent online service that helps consumers compare personal financial products offered by North America's leading financial institutions. Lowest Rates Inc. helps people save time and money by allowing them to compare offers on mortgages, insurance and credit cards all in one place. Lowest Rates Inc. strives to become North America's leader in providing consumers with the necessary tools and unbiased information they need to quickly and conveniently find the right personal financial products for their unique needs.
For more information visit LowestRates.ca and stay connected by following us on:
Twitter (@lowestrates_ca)
Facebook (http://www.facebook/lowestrates)
Our Blog (http://www.lowestrates.ca/blog).
Contact Information
Partnerships, Marketing & Media Inquiries:
Cliff Ritter, Co-Founder & Chief Marketing Officer
cliff(at)lowestrates(dot)com
Corporate Affairs/Inquiries:
Justin Thouin, Co-Founder, President and CEO
justin(at)lowestrates(dot)com