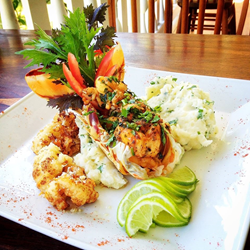 Offer people something exceptional, and they will seek you out
San Ignacio, Belize (PRWEB) August 12, 2015
A small Belizean café tucked away in the country's west was recently recognised as Belize's "Best Restaurant of 2015", highlighting Belize's increasingly sophisticated dining culture, according to the food and beverage manager of popular Belizean eco-resort The Lodge at Chaa Creek.
The Guava Limb Café's win also proves that there is much more to the Belize's appeal than stunning scenery and exciting activities, Chaa Creek's Bryony Bradley said after the café took the top restaurant honours at the Belizean government-sponsored National Tourism Awards.
Ms Bradley added that the Guava Limb Café, formerly a house next to the Macal River Park in the picturesque town of San Ignacio in Western Belize that was renovated by Chaa Creek, showed that quality food and service has become more important than location and name recognition in what she described as a "rapidly evolving foodie culture" in Belize.
"This award shows that an emphasis on quality and providing an excellent dining experience has become more important than being in a high traffic area or having an established reputation. Offer people something exceptional, and they will seek you out," she said.
"Chaa Creek has earned an excellent reputation as an eco resort, but we didn't want to use that branding with the Guava Limb Café, as we felt it should be able to stand on its own and build its own reputation for service and fine dining.
"Being recognised as Belize's best restaurant by the Belize Tourism Board after only two years of operation shows that it has," she added.
The Guava Limb Café took top restaurant honours at this year's National Tourism Awards, sponsored by the Belize Tourism Board, the Belize government's tourism body, and presented at a ceremony held August 1 2015 at San Pedro, Ambergris Caye.
Mick Fleming, who with his wife Lucy opened The Lodge at Chaa Creek in 1981, said the idea to build and market the Guava Limb Café as a separate entity, was to create "a place where local people could come in and enjoy," and that the location, "Just seemed like a really nice place to have a little café."
Ms Bradley agreed.
"We've had such great feedback from Chaa Creek's onsite Mariposa restaurant that we wanted to extend that level of quality and service to diners in town, who are a mixture of locals and tourists. With Chaa Creek's Maya organic farm and bakery supplying fresh ingredients, we felt we could deliver a high quality yet affordable dining experience to a larger, more varied and, as it turned out, very appreciative audience."
Ms Bradley said that both the Guava Limb Café and Chaa Creek's Mariposa Restaurant shared an emphasis on making the most of Belize's abundance of fresh-caught Caribbean seafood, lush pastureland and fresh produce from Chaa Creek's Maya Organic Farm.
"With our long Caribbean coastline and acres upon acres of unspoiled land dotted with farming communities, the main challenge Belizean chefs face is what to do with that abundance, and this most recent award shows how much they've risen to that challenge.
"We're fortunate enough to have some of the best chefs in Belize, and for them, having all these fresh ingredients to work with is like being a kid in a candy store," Ms Bradley said.
The Lodge at Chaa Creek is a multi award winning eco resort set within a 365-acre private nature reserve along the banks of the Macal River in Belize.
ENDS