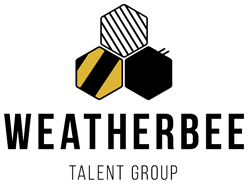 Los Angeles, CA (PRWEB) August 11, 2015
The biggest single challenge facing the public relations industry today is the right talent, in particular the art and science of finding, keeping, nurturing, and inspiring the best, according to executive search veteran Alan Weatherbee. In response to the growing talent demand seen in the last decade and anticipating continued demand for the next few years, the Weatherbee Talent Group launched today, specializing in placing top marketing, digital and PR professionals throughout the United States, Europe and Asia.
"Passive candidates now rule the marketplace," said Weatherbee. "It's less about placing an unhappy employee somewhere else but more about finding a typically happy but passive candidate who is willing to take the leap for a new opportunity. I'm dedicated to finding out the reasons why the best people stay or move, and even more passionate about putting so many incredible professionals into winning employment situations."
With 12 years in talent search, Weatherbee's matchmaking talent skills have attracted some of the best and brightest names in the industry to leading PR agencies such as Weber Shandwick, Rogers & Cowan, Golin, Cone, and Allison+Partners.
Added Weatherbee: "At the end of the day, I'm a matchmaker for your work life. Just like in your personal life, I want to help folks find what makes them happy, realize new opportunities, and in some cases, help them walk away from a bad relationship. We all spend more time at work than in our personal lives, so it only makes sense to make the most informed decisions about where to work, know where you can take your career, and always have a trusted advisor by your side."
About Weatherbee Talent Group LLC
Weatherbee Talent Group is an executive search firm that seeks to broker long-term, engaging career opportunities between winning organizations and passionate professionals. We are matchmakers for your work life. For employees, we bring you exciting possibilities, and for employers, we solve your most difficult searches. We have developed a "handcrafted" talent search tool to help identify ideal candidates that exceed expectations and go above the traditional search and hire process. We combine an extensive network of public relations and marketing talent with social and traditional recruitment expertise in order to provide customized executive search solutions for clients worldwide. More on Weatherbee Talent Group may be found at http://weatherbeetalent.com.
Interviews with Alan Weatherbee may be secured by contacting PR(AT)weatherbeetalent.com.