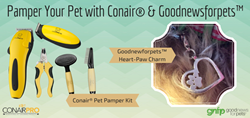 The celebration continues as Conair offers the "Conair Pet Pamper Kit," and Goodnewsforpets adds the GNFP Heart-Paw Charm for pet parents looking to spoil their pooch all year round.
New York, NY (PRWEB) August 11, 2015
This August Goodnewsforpets™ helps pet parents discover new ways to interact with their pets. Goodnewsforpets announces the start of the next 15th anniversary giveaway with Conair®. The celebration continues as Conair® offers the "Conair Pet Pamper Kit," a retail value of $124, and Goodnewsforpets adds the GNFP Heart-Paw Charm for pet parents looking to spoil their pooch all year round. The three contest winners also select a local shelter or rescue where a donation will be made in their name. To enter the contest, simply register at http://goodnewsforpets.com/pamper-your-pet-with-conair-giveaway by August 31, 2015.
"As one of the leading news sites for all things animal products, news and health, we wanted to work with Goodnewsforpets.com to commemorate their landmark 15th anniversary. In celebration, Conair will be giving away our 'Conair Pet Pamper Kit' to three winners. The Conair "Pet Pamper" Kit has a little bit of everything to keep your pet beautiful and well groomed, just before the fall" remarks Conair Product Manager, Austin Russo.
The Conair "Pet Pamper" Kit allows pet parents easy ways to make regular grooming another opportunity for positive interaction between pet and pet parent. The user-friendly kit makes the process enjoyable for both the pet and the pet parents.
The featured Conair "Pet Pamper" Kit includes:

ConairPRO Dog™ 16-Piece Pet Clipper Kit
ConairPRO Dog™ Palm Pro™ Micro-Trimmer
Conair Pet Large Nail Clippers
ConairPRO Dog™ Flea Comb with Memory Gel Grip
ConairPRO Dog™ Medium Slicker with Memory Gel Grip
Goodnewsforpets will also cover new ideas on how to interact with pets all month long. From toys to treats Goodnewsforpets will offer information on new ways that pet parents can enjoy time with their pets.
"So far the contest series has exceeded our expectations. We're thrilled ConAir has joined in celebrating our 15th anniversary. The company makes great products and we're happy to share the spotlight with them " said Lea-Ann Germinder, APR PRSA, President & Founder of Germinder & Associates and publisher of goodnewsforpets.com.
The Anniversary Contest Series continues as it marks the 15th Anniversary for the vet and pet news website, Goodnewsforpets.com. Each contest features a pet industry partner with an exciting partner offer and a sterling silver Heart-Paw charm custom designed by Elena Kriegner for Goodnewsforpets. The versatile charm can be worn as a necklace, on a bracelet or even on a pet's collar. Each contest winner also earns a donation to his or her favorite shelter or rescue. For companies wishing to participate in the contest or sponsor other areas of the site, please contact Lea-Ann Germinder at Lgerminder(at)germnider(dot)com or at 212-367-5130.
About Germinder & Associates & Goodnewsforpets.com
Germinder & Associates is an award-winning New York City based agency that provides strategic counsel, digital publishing content, and national campaigns for niche markets including animal health and pet products. Goodnewsforpets.com has curated news of interest and importance to informed pet parents inclusive of the pet industry and veterinary profession since 2000. For more information contact Lea-Ann Germinder, President and Founder at Lgerminder(at)germinder(dot)com or 212-367-2170.