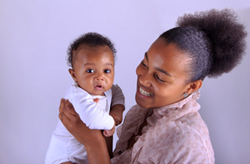 (PRWEB) August 25, 2015
In recent years there has been an increased awareness about the disparities in breastfeeding rates among minorities in the United States. In the U.S., Black infants die at much higher rates than White counterparts. According to the U.S. Census Bureau, the rate for infant mortality was 5.6/1000 for whites and 13.3/1000 for Blacks. Recent Calls to Action from the African American community have asked healthcare workers to become aware of how the current structure of healthcare coupled with cultural attitudes plays a role in perpetuating these disparities. Praeclarus Press is proud to present a new live webinar, For Allies Only, with Ngozi Walker-Tibbs, on August 28, 2015 at 1:00 pm EDT.
In this webinar, Ngozi-Tibbs will discuss the importance of the ally's presence in maternal child health, and how this has a direct influence on how diverse families are served in the current health care system. Objectives covered will be: What is an ally?, explicit and mplicit Bias, and The Comfort Zone of Privilege. Specific topics will include the definition of an ally, why community defined evidence must be respected and explored, how bias affects how we view others and can affect our ability to be a true ally, how to come out of our own comfort zone, and where to start and why work is needed long term.
Praeclarus Press is a committed ally to the African-American community, and works to offer educational breastfeeding resources for healthcare professionals and parents that demonstrate how to best support underprivileged populations. Released in March 2014, Free to Breastfeed: Voices of Black Mothers, supports Black mothers who want to breastfeed their babies. Compiled and edited by Jeanine Valrie Logan and Anayah Sangodele-Ayoka, Free to Breastfeed provides stories of challenges and triumph. For Black Breastfeeding Week, enjoy complimentary shipping on this title when you use code BBW2015 when check out in the online store.
Ngozi D. Tibbs MPH, LCCE, IBCLC, has a Master's in Public Health and is a doula, childbirth educator and lactation consultant in Pittsburgh. She has a small private practice and currently works at the area's largest hospital in Pittsburgh which delivers 12,000 babies per year. She is the co-founder of the Pittsburgh Black Breastfeeding Circle and the Pittsburgh Mamas Racial Discussion groups. Ngozi is passionate about serving mothers and babies and working toward true racial reconciliation in the Pittsburgh Area. She is a nationally sought after speaker on cultural competency and maternal child health issues. She is married for 24 years to her college sweetheart and they have five children ranging from ages eight to twenty-two.
Praeclarus Press is a small press specializing in women's health located in Amarillo, Texas. It was founded by health psychologist, Kathleen Kendall-Tackett, Ph.D., IBCLC, FAPA, and produces books, webinars, and other materials on all aspects of women's health. The mission of Praeclarus Press is to produce materials that change women's lives.