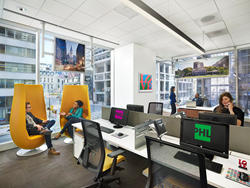 "PHLCVB's new space is a fusion of technology, design and social responsibility, and at NELSON we believe that is the future of business." - Angel DeElse
(PRWEB) August 11, 2015
The Philadelphia Convention & Visitors Bureau (PHLCVB) and NELSON, a global interior design, architecture, engineering, and consulting services firm, have completed the design of the Bureau's new office space, located at the corner of 16th and Market Street near Philadelphia's City Hall. The approximately 12,000 square foot space represents the PHLCVB's transition to a more open, flexible, and cutting edge work environment.
"When PHLCVB decided to seek a designer and architect to create a cutting edge look for our office, NELSON became the clear choice in a competitive bidding process," said Wanda Paul, Senior Vice President, PHLCVB. "In serving a non-profit, they were sensitive to the cost constraints we had but aware of the forward thinking feel we were aiming for in this new open space environment. Our desire to have everyone work in an environment that fosters collaboration, innovation and creativity was achieved with their creation of our beautiful new space. Our team members, including remote staff, can work in a variety of adaptable spaces throughout the day."
"I have worked with Wanda Paul and PHLCVB for over twenty years," said Angel DeElse, Managing Principal, NELSON. "Together, we have designed three successful office spaces. We have re-planned and reconfigured to better attune to new work processes and work styles. In their new space at 1601 Market Street, we have created a work environment based on activities, offering new flexible types of workspace. The open plan includes enclaves for private discussion, quiet space for heads down working, huddle rooms to collaborate and enclosed conference rooms to meet with teams and visitors. The heart of the space is the Kitchen Table, which fosters casual meetings and touchdown workspace for mobile sales teams. The table has been lovingly dubbed by the staff as "Buddakan II" in honor of local STARR Restaurant's favorite, Buddakan. The open workplace allows for an abundance of natural light and views for everyone. PHLCVB's new space is a fusion of technology, design and social responsibility, and at NELSON we believe that is the future of business."
The design aesthetic creates a sleek and modern space that captures the energy of the urban environment while adhering to budget constraints and PHLCVB's desire for a more collaborative workspace. In lieu of private offices, the floor plan includes bench seating for all tenures, including the executive team, providing for greater transparency and communication across tenures and disciplines. A central multi-purpose room, which utilizes flexible furniture, a movable wall, and plug-and-play technology, provides for an array of functions from staff lunches and training, to promotional events and quarterly board meetings. Additionally, open touchdown areas throughout function as off-site staff workspaces, as well as varied workspace options for all. Raised flooring and furniture with plug-and-play technology help promote PHLCVB's desire for a work environment that is open, multi-functional and flexible.
Notable design features include adjustable lighting settings throughout, a sculptural pendant in the reception area, varying ceiling heights, and new color-changing LED signage at the perimeter glass. Further highlighting the importance of urban connection is a mural of the city that will encompass an entire wall and that was designed by local artist, Marcus Balum through the Philadelphia Mural Arts Commission. Brinjac Engineering was also actively involved in the project and provided the mechanical, electrical, plumbing, and structural work that was necessary to transform the original shell space.
For additional photos of the space, please visit our website.
NELSON is a global Architecture, Interior Design, Engineering, and Consulting Services firm. With nearly 600 Teammates in 35 locations around the world and strong experience in a broad range of industries, NELSON works with more than 20 percent of companies in the Fortune 100 and is nationally ranked as one of the top five firms specializing in Corporate Office Design on Interior Design Magazine's Top 100 Giants list. For more information, visit http://www.NELSONonline.com.