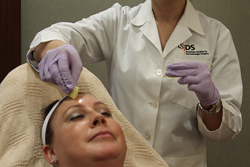 Rolling Meadows, Ill. (PRWEB) August 11, 2015
Consumers say dermatologists have the greatest – and a growing – influence in their decision to have a cosmetic medical procedures, a 2015 survey shows.
Dermatologists were considered the most influential of 14 factors each of the past three years in the annual Consumer Survey of Cosmetic Dermatologic Procedures conducted by the American Society for Dermatologic Surgery. The percentage of respondents who identified dermatologists as their greatest influence has risen each year, now standing at 55 percent.
Guidance from dermatologists carries the most clout with consumers, ahead of other influencers such as friends, primary care physicians, plastic surgeons, relatives and informational websites.
ASDS President George J. Hruza, M.D., M.B.A., considers dermatologists to be rightfully regarded as most influential in choosing a cosmetic medical procedure.
"As the foremost authorities in the field, board-certified dermatologists can counsel patients about skin procedures with unmatched expertise," Hruza said. "It is natural that consumers would seek out the true experts in skin health and beauty to help them evaluate their treatment options."
Consumers also recognize that specialized training makes all the difference in a successful cosmetic medical procedure. They again said the specialty in which a physician is board-certified is the single most important factor when selecting a practitioner for a cosmetic procedure – more resonant than cost, physician referral or eight other choices, according to the survey.
"Patients recognize there is a major correlation between the scope of training their physician received and the level of expertise with which the physician can provide medical advice and patient care," Hruza said. "Unlike other practitioners, ASDS members have the knowledge and training to offer patients a full range of treatment options and deliver excellent outcomes."
The reputation – and influence – of ASDS members continues to spread. ASDS members performed more than 6 million cosmetic medical procedures in 2014, according to the Society's procedures survey. Wrinkle-relaxing injections, soft-tissue fillers and laser, light and energy-based treatments are among the more popular treatments performed by ASDS members.
The Society's third annual consumer survey tracked overall consumer views on cosmetic treatments and ratings for 10 specific procedures. It showed that half of consumers are considering a cosmetic procedure, citing the desire to look and feel younger, appear more attractive and feel more confident.
"It is gratifying to know that when consumers are finalizing their decisions, they take the advice from their dermatologists to heart above all others," Hruza said.
About the Survey
Data were obtained through a blind online survey conducted from April 30 to May 4 through the web-based Contribute service. The survey received 7,315 responses.
About ASDS
The American Society for Dermatologic Surgery is the largest specialty organization exclusively representing dermatologic surgeons who have unique training and experience to treat the health, function and beauty of your skin. ASDS members are pioneers in the field. Many are involved in the clinical studies that bring popular treatments to revitalize skin and fill and diminish wrinkles to the forefront. Their work has helped create and enhance many of the devices that remove blemishes, hair and fat, and tighten skin. Dermatologic surgeons also are experts in skin cancer prevention, detection and treatment. As the incidence of skin cancer rises, dermatologic surgeons are committed to taking steps to minimize the life-threatening effects of this disease. For more information, visit asds.net.
Follow us:
Website: asds.net
Follow ASDS on Twitter: twitter.com/ASDSSkinExperts
Become a fan of ASDS on Facebook: facebook.com/ASDSSkinExperts
Locate a dermatologic surgeon in your area: asds.net/findadermatologist.aspx
Contact:
Jay Schwab
Communications Manager
American Society for Dermatologic Surgery
jschwab(at)asds(dot)net
847-956-9143