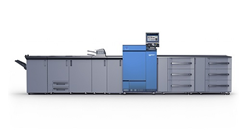 The acquisition of these four new C1085's is a clear demonstration of our continued pursuit of excellence.
Manchester, UK (PRWEB UK) 13 August 2015
By incorporating the four bizhub PRESS C1085's into their existing fleet of digital printers, Prime Document will gain a 25% increase in print capacity, whilst offering their clients the very pinnacle of print quality.
Printing up to 5,100 pages per hour these full colour digital printing systems are Konica Minolta's flagship models. Utilising Simitri High Definition E toner and S.E.A.D. IV image processing technology their print quality is unrivalled in the market place, whilst reduced power and toner consumption figures lessens their environmental impact.
Commenting on this latest reinvestment in technology, Deborah Thompson, Financial Director at Prime Document said:
"Our target corporate clients and organisations demand a premium service and a flawless end product. We're constantly looking to improve our production efficiencies, capacity and quality of print. The acquisition of these four new C1085's is a clear demonstration of our continued pursuit of excellence."
This investment in cutting-edge technology seems to be a familiar theme with the Manchester based document management company. In February this year, Prime Document acquired two new Neopost DS-1200 intelligent enclosing systems, raising their document output rate to a staggering 55,000 documents per hour.
Adding to Deborah's comments, Managing Director Simon Thompson said:
"This latest reinvestment in our print production facilities is the next logical step in offering our clients the very best in high-volume print fulfilment. Technology continues to drive our sector forward and we're always keen to be at the forefront of what's possible."
– ENDS –
About Prime Document:
Established in 1999 to provide secure and reliable critical document production and distribution services, the document management company have continued to demonstrate a quality of service and return on investment that businesses find hard to ignore.
Working with leading brands and blue chip organisations, Prime Document have a rich heritage and impressive portfolio of customers including; LeasePlan, L'Oreal, Johnson & Johnson, Jardine Lloyd Thompson and Rentokil Initial.
Operating from Park Seventeen Industrial Estate in North Manchester, Prime Document are ideally situated between the M1 and M6 motorways, just 30 minutes from Manchester Airport.
Prime Document Ltd have been awarded the highest accolade possible by their ISO Customer Satisfaction consultants: The Diamond Award, achieving 95% customer satisfaction levels.
Prime Document Limited
Unit 3, Park Seventeen, Moss Lane, Whitefield
Manchester. M45 8FJ
Tel: 0161 766 5544
http://www.primedoc.co.uk