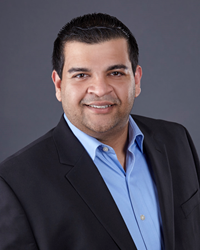 Irving, TX (PRWEB) August 13, 2015
File & ServeXpress, the pioneer and national leader of electronic filing and service for the legal and judicial communities, is pleased to announce the appointment of Numair Syed as their new Chief Financial Officer.
Mr. Syed, who brings with him 15 years of corporate finance experience, will be responsible for File & ServeXpress' Finance, Accounting and Human Resources teams. In driving efficiencies and financial discipline across the organization, Mr. Syed will support the company's strategic initiatives, including its latest innovation, an all-in-one, integrated legal technology platform called CaseEdge.
"I am thrilled to have the opportunity to work alongside talented individuals and help File & ServeXpress shape the future of electronic filing," said Mr. Syed. In addition to extensive financial planning & analysis experience, he has a proven track record of successfully implementing and managing accounting systems and reporting functions. Most recently, Mr. Syed was responsible for financial planning & analysis, accounting, and contracts management for DynCorp International, a global defense contractor with $3.8 billion in annual revenues, providing logistics solutions and support services to governments worldwide. Mr. Syed has also held leadership positions with companies in the retail and manufacturing industries.
"Numair's strong leadership and keen financial acumen make him an ideal Chief Financial Officer," said Mel Yarbrough, CEO of File & ServeXpress. "He is highly respected amongst industry peers, and in this new role he will have even more impact in creating value for our customers, employees and shareholders."
Reporting directly to Mr. Yarbrough, Mr. Syed will be responsible for management of all financial functions of the company including accounting, treasury, tax, financial planning and analysis, investor relations, M&A activity, and contract negotiation & management.
Mr. Syed is a graduate of Dowling College having earned both a B.A. in Management and an MBA. He also holds Six Sigma certifications from Villanova University.
About File & ServeXpress
File & ServeXpress, headquartered in Irving, Texas, was formed in 2012 through an acquisition of two of the pioneers of e-Filing and e-Service – CaseFileXpress and File & Serve, a former LexisNexis company. The resulting combination brought together more than 30 years of experience in legal e-Filing and e-Service to form the leader in the industry, offering products that provide access to universally compatible document exchange and management technologies. The company serves all types and sizes of courts, firms, cases and practice areas.
File & ServeXpress combines exceptional client service and advanced e-Filing and e-Service technology with the management and financial strength of its private investors. File & ServeXpress was formed by the shareholders of MMC Group, LP, Strait Lane Capital and Rosewood Private Investments specifically to acquire File & Serve and CaseFileXpress.