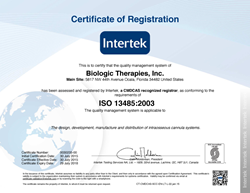 Ocala, FL (PRWEB) August 13, 2015
Biologic Therapies, Inc., a leading medical device company specializing in the design and manufacturing of proprietary medical products for the regenerative medicine market, announced today the company has achieved ISO 13485:2003 certification.
ISO 13485:2003 standards are recognized globally and are used by medical device manufacturing and service organizations to create a standardized quality management system that is constantly monitored to ensure it conforms to the principles of continual quality improvement and customer satisfaction. For Biologic Therapies, the quality management system is applicable to design, development, manufacture and distribution of medical devices including intraosseous cannula systems.
Biologic Therapies achieved ISO 13485:2003 certification following a successful audit of its quality management system and organizational structure by Intertek. As a leading global ISO certification body, companies around the world have depended on Intertek to ensure the quality and safety of their products, processes and systems for more than 129 years.
Luke Whalen, Biologic Therapies' CEO, said, "Earning ISO 13485:2003 certification demonstrates to our customers, suppliers and stakeholders that Biologic Therapies is focused on its commitment to continuous quality improvement within all levels of our organization. It also indicates what our customers can expect when they entrust their business to us. It is a relevant differentiator that provides increased credibility within the marketplace and will enable us to manufacture products for other medical device companies."
Zac Collins, Biologic Therapies' Chief Design Engineer and Quality Assurance Manager, added, "ISO certification confirms Biologic Therapies' commitment to meeting the globally recognized International Organization for Standardization (ISO) requirements for the design and manufacturing of medical devices.
"Our mission is to provide continual improvement within our organization so that we constantly increase the quality, reliability, innovation, value and integrity of our products. Every member of our organization is responsible for supporting, following and continuously improving quality management policies and procedures. Active participation by every Biologic Therapies employee is critical to sustaining and improving our quality management system."
About Biologic Therapies
Based in Ocala, Florida, Biologic Therapies, Inc. is an American company with a principal strategy of developing innovative, proprietary and patented technologies to meet the needs of the emerging biologics / regenerative medicine market. Biologic Therapies' mission is to provide groundbreaking medical technologies that significantly enhance the body's natural healing ability, thereby providing patients with improved outcomes and quicker restoration of function.