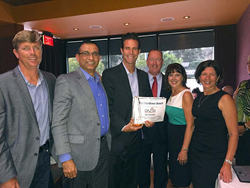 El Segundo, CA (PRWEB) August 19, 2015
A worldwide consulting and implementation organization, DAZ focuses exclusively on Oracle applications for companies of all sizes. With Specialization level certification on Oracle Cloud products as well as traditional Oracle ERP applications, companies choose DAZ for their experience and expertise more than any other company.
"Congratulations to DAZ Systems, Inc. for driving the largest partner license and SaaS cosell revenue in North America for Mid Market Application Sales in FY15! I appreciate the organization's commitment to Oracle's Mid Market applications business." Deb Floyd, Oracle Group Alliance Director
"The DAZ team is very proud of this acknowledgement," said Deborah Arnold, President of DAZ. "The award acknowledges our commitment to delivering Oracle ERP and HCM Cloud projects, with success measured by happy customers. With 20 live Cloud customers, DAZ is leading the business transformation via the Cloud products."
DAZ is one of Oracle's premier partners in transitioning clients to the cloud. A few DAZ project highlights this year alone include Cloud implementations for CyraCom International, Transplace Texas, Gander Mountain, Boston Biomedical, Fitness Alliance, Fortis Management, and Knight Transportation.
About DAZ Systems, Inc.
DAZ Systems, Inc. is an independent Platinum level member in the US Oracle PartnerNetwork. Having implemented exclusively Oracle enterprise-wide solutions, including the Oracle ERP Cloud, HCM Cloud, E-Business Suite, Business Intelligence, JD Edwards, EPM, VCP, Agile (PLM) and CRM Cloud for nearly 20 years, DAZ Systems, Inc. brings a new perspective and deep experience to implementing mission critical business systems and delivering the highest quality of consulting services. With a rich understanding of Oracle technologies, DAZ continues to deliver mission critical Oracle based solutions to Fortune 1000 and medium-sized enterprises across North America and the world. For more information, visit http://www.dazsi.com
About the Oracle PartnerNetwork
Oracle PartnerNetwork (OPN) Specialized is the latest version of Oracle's partner program that provides partners with tools to better develop, sell and implement Oracle solutions. OPN Specialized offers resources to train and support specialized knowledge of Oracle products and solutions and has evolved to recognize Oracle growing product portfolio, partner base and business opportunity. Key to the latest enhancements to OPN is the ability for partners to differentiate through Specializations. Specializations are achieved through competency development, business results, expertise and proven success. To find out more visit http://www.oracle.com/partners.
Trademarks
Oracle and Java are registered trademarks of Oracle and/or its affiliates.