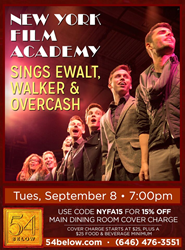 New York, NY (PRWEB) August 11, 2015
For the first time, catch the rising stars of The New York Film Academy's Musical Theater department on stage at 54 Below, singing songs they've workshopped with songwriters Ewalt & Walker and Drew Overcash.
54 BELOW, Broadway's Supper Club, presents Ewalt & Walker, Drew Overcash, and the students and faculty of The New York Film Academy in "NYFA Sings Ewalt, Walker, & Overcash" on Tuesday, September 8th, 7pm.
NYFA's burgeoning musical theater department is ready to meet the city's cabaret scene and wow the crowds with their newest crop of undiscovered talent. After working with the students on new projects, Ewalt & Walker and Drew Overcash will invite NYFA's young stars to join them in a concert celebrating their work together. They'll be joined on stage by some of NYFA's own faculty, including Broadway stars and cabaret legends including Natalie Weiss (Everyday Rapture, Les Miz, and Breaking Down the Riffs), Kristy Cates (Wicked), and more to be announced soon. See Broadway's future stars singing alongside their Broadway teachers, in what is sure to be an unforgettable night of hot-off-the-presses musical theater.
Produced by Kristy Cates with musical direction by Anna Ebbesen.
Ewalt & Walker, Drew Overcash, and the students and faculty of The New York Film Academy in NYFA Sings Ewalt, Walker, & Overcash plays 54 Below (254 West 54th Street) September 8th, 7pm. There is a $25-$35 cover charge and $25 food and beverage minimum. Tickets and information are available at http://www.54Below.com. Tickets on the day of performance after 4:00 are only available by calling (646) 476-3551.
MORE ABOUT EWALT & WALKER
Kyle Ewalt & Michael Ian Walker, writers of the hit show BROMANCE, return to 54 Below after two smash, sold-out Pajamboree concerts, where they turned the club into a musical theater sleepover party. Their work has also been seen at Joe's Pub, Playwrights Horizons, Ars Nova, Caroline's On Broadway, and 92Y. They are also the curating producers of the emerging composer series Behind the Music-al, produced in conjunction with The Dramatists Guild of America. http://www.ewaltandwalker.com
MORE ABOUT DREW OVERCASH
Drew Overcash is a Midwestern songwriter whose work has been heard around the city at venues like Joe's Pub, Manhattan Movement and Arts Center, Birdland, 54 Below, and The Pershing Square Signature Center. His musical, BOYS VS. GIRLS, under production contract with Last Call Theatricals, held its NYC premier concert at (le) Poisson Rouge this past spring. He is a creator of the sold-out concert series Twenty-Somethings (in it's third year at The Highline Ballroom), the St. Jude Benefit Concert series raising money for St. Jude Children's Research Hospital, and the Fresh Pens Contest, which gives new songwriters the opportunity to showcase their music. @djovercash
MORE ABOUT NEW YORK FILM ACADEMY
New York Film Academy is accredited by the National Association of Schools of Art and Design (NASAD), and provides students with a variety of options to access a performing and visual arts education. With locations all around the world, the New York Film Academy has grown into an international film and performing arts school with a focus on learning by doing, providing its students with hands-on instruction. Students can choose to enroll in one of the Academy's MFA, MA, BFA, BA, and AFA degree programs and short-term workshops in filmmaking, acting for film, photography, producing, 3D animation, cinematography, screenwriting, documentary filmmaking, musical theatre, game design, graphic design, illustration, digital editing and more.
With more than 7,500 students from 108 countries this past academic year, NYFA offers courses all around the world, including New York City, Los Angeles, South Beach, Abu Dhabi, Sydney, Gold Coast/Queensland, Florence, Paris and more.
NYFA's Musical Theatre Program is the only 2-year musical theatre program offering students the chance to star in a movie musical created around their talents during the second year of instruction, using as many NYC musical theatre resources as possible. In addition to workshops with emerging composers, NYFA's Musical Theater department has put on three full-length musicals in New York City, and is currently preparing for a fourth this upcoming Fall.
MORE ABOUT 54 BELOW
54 BELOW, Broadway's Supper Club, is the new performance venue in the grand tradition of New York City nightlife. A few blocks from the heart of Times Square and just below the legendary Studio 54, 54 BELOW is a classically designed state-of-the art nightclub in the theatre district that hosts audiences with warmth and style. The venue provides a food and beverage menu from early evening through the wee hours of the morning that is worthy of the world-class entertainment on the stage. In their description of 54 BELOW, The New York Times writes "the club has the intimacy of a large living room with unimpeded views and impeccable sound; there is not a bad seat. Its sultry after-hours ambience is enhanced by brocade-patterned wall panels planted with orange-shaded lanterns. And the atmosphere is warmer and sexier than in Manhattan's other major supper clubs." Located at 254 West 54th Street, 54 BELOW features up to three shows nightly with cover charges ranging from $15-$95.