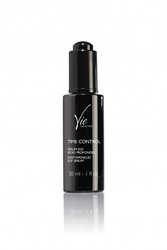 ...a solution to reverse biological skin aging inspired by the anti-aging power of epidermal growth factors.
Saint-Malo, France (PRWEB) August 20, 2015
Available in select spas and at http://www.lespausa.com
Vie Collection reasserts its cosmeceutical expertise with TIME CONTROL DEEP WRINKLES EGF SERUM, a solution to reverse biological skin aging inspired by the anti-aging power of epidermal growth factors (EGFs). As natural EGF is lost by the body with age, the skin becomes more vulnerable to aging; the cells begin to degenerate, the skin begins to slacken and deep wrinkles form. TIME CONTROL's specialized EGF-like peptide has the same mollecular structure as natural EGF and is recognized as such by the body. This allows it to substitute for lost EGF, activating cell division for faster and more efficient skin regeneration. Complementary ingredient EGF-ACTIV COMPLEX ensures that both natural EGF and the EGF-like peptide bond securely with receptors for optimal cell regeneration.TIME CONTROL has an energizing scent with floral, fruit and amber notes. It has a light, milky consistency that immediately melts into the skin leaving a velvety finish while soft-focus powders blur wrinkles for an instant smoothing effect. In one month*, deep wrinkles are smoothed, tissues are redensified, the skin is plumped up and youth is restored.
TIME CONTROL DEEP WRINKLES EGF SERUM, 30 ml, suggested retail price $172.00
Directions for use: Apply morning and/or evening to perfectly cleansed face and neck, underneath facial cream. Tested under dermatological control.
Key ingredients:

EGF-like Peptide - obtained by chemical synthesis, with the same molecular structure as EGF. Mimics natural EGF and "deceives" EGF receptors, activating cell division and increasing the speed and efficiency of cell regeneration.
EGF-ACTIV Complex - obtained via biotechnological process. Strengthens the cohesion between the two subunits of the EGF receptor, ensuring its bond with both the EGF and the EGF-like peptide. Increases cell division capability for faster and more efficient cell renewal.
Impressive results:
DEEP WRINKLES SMOOTHED
Lasting and Prolonged Smoothing Effect: Maintained 7 days* after stopping TIME CONTROL
Measurement of the smoothing and anti-wrinkle effect on crow's feet. Instrumental test on 24 volunteers after twice-daily use. Average value obtained on 10 of the 24 volunteers. Overall result -6%. 2D Illustrations and macro photography of one of the best results.
Vie Collection at a glance:
As a cosmeceutical expert in the spa industry, Vie Collection is a high performance, high-end skin care line focused on bridging the gap between traditional cosmetics and esthetic medicine. We are one of few spa brands with our own laboratory which allows us to always be on the cutting-edge of scientific progress in cosmetics. We offer in-spa solutions for a spa-savvy clientele that seek medical results but prefer the use of topical products. Vie Collection has targeted, noninvasive and clinically proven alternatives and complements to the top five cosmetic medicine procedures available today. With the partnership of a prestigious French esthetic doctor, Vie Collection brings expertise, authenticity and real results in the form of expert formulations and treatments, from the finest ingredients.