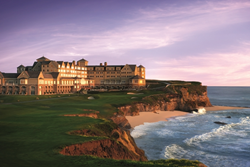 (PRWEB) August 13, 2015
The Ritz-Carlton, Half Moon Bay has joined with Fumar Cigars, the industry leader in legendary on-premise cigar programs, to feature the most expensive cigar in the world, His Majesty's Reserve Gurkha.
Made in the Dominican Republic, His Majesty's Reserve cigars are aged tobacco leaves rolled into a fine cigar before adding a full shot of 40-year-old Louis XIII Remy Martin Cognac into each of the luxurious smokes. The blend is comprised of an 18-year Connecticut Maduro wrapper with 12-year-old Dominican binder and fillers. The cigar was made in 1996, making the tobacco 37 years old. Kaizad Hansotia, the founder of Gurkha Cigars, encased it in the best glass tube he could find and sealed it with rich green wax. His Majesty's Reserve is a rare and special cigar famous for not only its taste, but as the world's most expensive cigar. The amazing aromas, as well as the taste of the cigar, are something not to be forgotten. His Majesty's Reserve are offered at the stately price of $2,000 each.
Guests at The Ritz-Carlton, Half Moon Bay can enjoy His Majesty's Reserve cigar experience at their own fire pit in select guest rooms or on The Ocean Lawn, where they can sit back and listen to the crashing waves while savoring this exceptional cigar.
Click here for additional images.
# # #
About Gurkha Cigars
In 1887, at the height of the British rule, colonial soldiers began to make their own cigars from the local tobacco. The fondness of the British for these legendary Nepalese fighters inspired them to name their cigars Gurkhas. Steeped in legend and history, the Gurkha cigars, created more than a century ago has been reborn and today is one of the most famous brands of luxury cigars in the world. Having extraordinary quality and premium blends of tobacco, Gurkha is known for limited release and rare tobacco products with outstanding and artistically-oriented packaging. Gurkha is also known as the 'Rolls Royce' of cigars and is enjoyed by many of the world's elite.
About The Ritz-Carlton, Half Moon Bay
Situated 23 miles southwest of the San Francisco International Airport, The Ritz-Carlton, Half Moon Bay is a 261-room destination spa and golf coastal resort and the San Francisco Bay Area's only oceanfront resort. Set atop a rugged bluff overlooking 50 miles of pristine California coastline, the timeless oceanfront estate provides guests with a relaxed yet refined experience, whether for a romantic getaway, meeting or special event. For more information on fall activities, please contact The Ritz-Carlton, Half Moon Bay at 650-712-7000. For room reservations, contact your travel professional, visit http://www.ritzcarlton.com/hmb or call Ritz-Carlton worldwide reservations at 800-241-3333. Visit http://www.ExperienceHalfMoonBay.com to learn more about the destination.