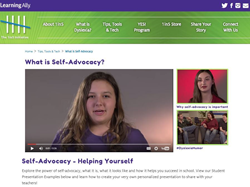 I love being able to think that I made a difference by helping to build a community for fellow Dyslexians...
Princeton, NJ (PRWEB) September 29, 2015
The national nonprofit Learning Ally announced that it has launched a new website providing extensive resources and information – created with a compelling personal touch by and for young people with dyslexia.
Named for the one in five Americans who have been flagged by top researchers as having dyslexia and related learning differences, the newly revamped Explore1in5 site is a dynamic online destination for kids and their families. Participants in the site can share their diverse stories, tap into a wealth of resources, inspire and encourage each other, and become part of a growing community of support.
The new youth-driven community hub delivers a fresh view into driving public awareness. Through compelling videos, personal stories contributed by youth who are dyslexic, and an accompanying e-newsletter called The Dyslexian, the site offers hope and practical knowledge for millions of individuals affected by dyslexia – a condition that can be debilitating for children who do not receive adequate support and educational interventions.
"I love being able to think that I made a difference by helping to build a community for fellow Dyslexians," says Victoria, a 16 year old student in Denver, Colorado. "The Explore 1in5 website represents a place where other students can get the confidence they need to be successful. I can't wait to see how this project evolves in the future and what other ways students can start connecting to support each other."
"Explore1in5.org is the centerpiece of our growing set of youth services," says Learning Ally President and CEO Andrew Friedman. "Since it's built around an arsenal of video input from kids with dyslexia, it speaks in an authentic voice that enables kids to learn from each other about crucial things like self-advocacy, partnering with teachers, using new technology for learning, and becoming a more successful and confident student. There's really nothing like this resource, and it sets the stage to help us reach and support thousands more young people in years to come."
About Learning Ally
Founded in 1948, Learning Ally supports K-12, college and graduate students, veterans and lifelong learners – all of whom read and learn differently due to dyslexia, blindness or visual impairment, and other disabilities. Through its extensive community events and support programs, Learning Ally enables parents, teachers and specialists to help students thrive and succeed. The organization hosts live and virtual events for families and teachers; provides instructive webinars led by experts as well as peer-to-peer sessions led by students; personal consultations for parents; and professional development workshops for educators.
Learning Ally's collection of 80,000 human-narrated audio textbooks and literature titles can be downloaded by students using their smartphones and tablets, and is the largest of its kind in the world. As a 501(c)3 nonprofit, Learning Ally is partially funded by grants from state and local education programs, and the generous contributions of individuals, foundations and corporations. For more information, visit http://LearningAlly.org.