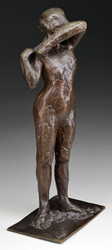 To our knowledge, this Degas bronze has never been offered at auction and is estimated at $150,000-250,000.
Fairfield, Maine (PRWEB) August 15, 2015
James D. Julia, Inc., one of the nation's top ten antique auction houses, is excited to announce its annual August Fine Arts, Asian, & Antiques auction, to be held on August 25th - 28th with a preview on August 24th. This 2,600 lot sale includes works by over 330 different artists and is so large in scope that it has been extended from three days to four. It promises to offer an astonishing array of fine and decorative arts, antiques, folk art, Asian articles, historical items and archives, and a few breathtaking surprises as well.
Day one hits the ground running with 450 lots of paintings and bronzes. Key works on canvas include a Gloucester Doorway by Abbott Fuller Graves, estimated at $20,000-40,000; William Glakens' "Rockport, Mass. 1936 No. 3," estimated at $175,000-250,000; and 25 paintings by Waldo Peirce. For those interested in "heavy metal," Julia's is offering Edgar Degas' "Danseuse Agrafant L'epaullette De Son Corsage" (#64D). To our knowledge, this bronze has never been offered at auction and is estimated at $150,000-250,000. Other highlights include Carl Rungius' "Big Horn Ram," estimated at $125,000-175,000, and works by Chiparus, Kolbe, and Hartmann, among others.
Auction days two and three include over 1,300 lots of fine antiques, furniture, and accessories. On offer are almost a dozen clocks, with the finest being a Chippendale block-and-shell carved Goddard Townsend mahogany tall case clock by Thomas Claggert, estimated at $70,000-150,000. Antique furniture highlights include a number of Chippendale items like a magnificent cherry highboy, estimated at $10,000-15,000. Painted furniture is also well represented in this sale, with a decorated dowry chest perhaps the most eye-catching example. Clients looking for more modern furniture will be delighted with our George Nakashima selections, including a set of six chairs and a dining table, estimated at $8,000-12,000.
Julia's August sale will feature selections from the most desirable lighting manufacturers including Handel, Porcelli Studios, and Pairpoint. Enthusiasts will be aglow over several Tiffany Studios offerings including a green Acorn hanging lamp, estimated at $10,000-15,000. And like all of Julia's Fine Arts, Asian, & Antiques auctions, August's event also features a fine selection of Oriental carpets and rugs.
Buyers looking for the finest folk art and posters will delight in Julia's broad selection of these items. Folk art highlights include portraits of Captain and Mrs. Nathanial Holmes by William M. Prior, estimated at $10,000-20,000 for the pair, and a recently discovered ship portrait by Fitz Henry Lane, estimated at $150,000-200,000. Exceptional posters include a rare Peugeot broadside by Rene Vincent, estimated at $8,000-10,000, and a poster of Georgia Graves Paul Colin, estimated at $3,000-5,000.
Collectors wanting to catch wind of a great offering of weathervanes don't need to look any further than this sale. Over 40 outstanding examples will be on offer, including a New Jersey Steer, estimated at $25,000-35,000, and a grasshopper with a marvelous verdigris patina, estimated at $60,000-80,000.
Other fine categories featured during the second and third days of this momentous sale include silver, Native American items, and motorcycles.
This auction offers many remarkable items from famous Americans. One highlight is an archive of documents from Amelia Earhart, the first female aviator to fly solo across the Atlantic Ocean, which is estimated at $40,000-$50,000. Other historical lots include a collection of World War II letters to and from "Dutch" Van Kirk, the Navigator of the Enola Gay - estimated at $30,000-$50,000 - and a series of General George Custer memorabilia lots.
Also of great historical interest is the estate collection of John W. Armiger, Jr. This outstanding offering of early American flags, political ephemera, militaria, and folk art is in itself a museum of the origins of our country. An extraordinary example from this collection is a 13 star American flag, conservatively estimated at $20,000-30,000.
The fourth and final day of Julia's annual summer auction is dedicated to over 850 lots of Asian Art. Julia's is pleased to present another series of remarkable items from the collection of a Renowned Taiwanese Diplomatic Family. One exceptional item from this estate is a rare Zitan carved canopy bed, estimated at $60,000-80,000. Other day four Asian furniture highlights include a Kang table, estimated at $60,000-80,000, and a carved dragon Huali table, estimated at $8,000-10,000.
Scrolls, artwork, and thangkas are featured prominently during the Asian day of this sale. Outstanding paintings include "Imperial Hunt in a Palace Park" after Guiseppe Castiglione, estimated at $70,000-$80,000, and Leonard T. Foujita's "Book of Cats," estimated at $10,000-15,000. These categories are rounded out with a selection of Tibetan thangkas, highlighted by a finely painted example of Avalokiteśvara, estimated at $12,000-14,000.
Julia's selection of jades, porcelains, and cloissone offered on the final day of this sale are second to none. Jade selections include small pendants, pebbles, and snuff bottles, as well as a large white pendant estimated at $35,000-50,000. Porcelain offerings run the full gamut of domestic, ceremonial, and ritual items dating from the Ming Dynasty through the 20th century, with a highlight being a large famille rose censer, estimated at $30,000-50,000. Cloissone highlights include a garniture set, estimated at $16,000-30,000.
Bronzes and Chinese trade selections represent the last, but hardly least, of the Asian lots in this sale. This event offers a variety of censors, Buddhas and other traditional and ritual items. All eyes will be on a gilt bronze Tara, estimated at $30,000-$50,000, and a seated figure of Guanyin on a lotus stand, estimated at $160,000-$180,000. Chinese trade highlights include portrait of a Hong Merchant, several reverse paintings on glass, a Canton porcelain footbath, and a very fine, decorated Chinosorie sewing table.
About James D. Julia:
James D. Julia, one of the top ten antique auction antique houses in North America, is headquartered in Fairfield, Maine. The company also has an office in Woburn, Massachusetts. In business for almost five decades, the company conducts high-end antique, collectible, and decorative arts auctions throughout the year. Julia's has routinely establishes new world records through its sales events. The company consists of three divisions, including rare firearms; fine and Asian art and antiques; and lamps and glass. Each division is regarded for its excellence and is staffed with world-class specialists to insure fair and professional authentication, identification, and valuation services. For more information on James D. Julia and the company's Summer Fine Arts, Asian, and Antiques Auction, please see http://www.jamesdjulia.com.