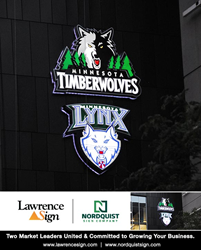 The teams' logo signage turned out wonderful and exceeded all of our expectations.
St. Paul, MN (PRWEB) August 11, 2015
The Minnesota Timberwolves and Lynx took center court downtown Minneapolis with the June 17th, 2015 grand opening of their new practice facilities and corporate offices. Lawrence Sign proudly provided design, fabrication and installation services for the exterior signage.
Minnesota Timberwolves and Lynx Chief Marketing Officer Ted Johnson said, "The teams' logo signage turned out wonderful and exceeded all of our expectations. Lawrence Sign completed their manufacturing and installation in a professional manner in time for the Grand Opening Events timed to coincide with the 2015 NBA Draft."
Both the Lynx and the Timberwolves logos were displayed with custom manufactured illuminated signs installed on the building facing First Avenue. Robb Walker, CEO of Lawrence Sign said, "The team at Lawrence Sign is excited to be a part of the Minneapolis reconstruction and quality athletic accommodations for our NBA and WNBA basketball teams. Working with Taylor Sports, the Timberwolves and the Lynx was a remarkable opportunity."
John Hollenbeck, National Brand Manager with Lawrence Sign, stated, "The Minnesota Timberwolves/Minnesota Lynx organization had a very specific idea how the team logos should be displayed at the new team headquarters and practice facility within the Mayo Clinic Square. They needed a design with three dimensional qualities and the ability to program the lighting effects for game days and team events. Given the nature of the logo elements for both teams, there was a challenge in implementing the 3-D elements while meeting a predetermined budget and an aggressive project timeline.
"Working with Brian Kimmes and Ted Johnson of the Timberwolves/Lynx organization," Hollenbeck continued, "we were able to refine the original design concepts and execute the fabrication to meet the team's needs on both appearance and budget. Each sign has a mix of graphic elements including push-through acrylic letters, face and halo lit graphic elements, custom digital printed graphics and programmable, color changing LED lighting effects. All of these pieces came together on custom fabricated signs, each in the shape and configuration of the individual team brands. Located on the First Avenue side of Mayo Clinic Square, the signs will be visible from the Target Center while tying the new practice facility and the arena together graphically to create a multi facility hub for our State's NBA and WNBA franchises."
About Lawrence Sign and Nordquist Sign
For more than 80 years, Lawrence Sign has been assisting prominent companies to grow with new locations coast to coast with their multi-site sign program. Lawrence Sign proactively manages every aspect of their customers' sign program including design, regulatory compliance, fabrication and installation and ongoing maintenance.
Lawrence Sign utilities advanced technologies and expansive facilities to provide direct in-house control of the entire sign fabrication process. The Company excels at serving companies with a multi-site national and international presence.
Nordquist Sign has been fabricating and installing interior and exterior signage, architectural elements and way-finding signage for more than 100 years. Nordquist's customer base and scope of work includes custom signage and environmental graphics for hospitals, sports facilities, themed entertainment, corporate/financial and mass transit industries. Nordquist Sign also maintains a gaming division with offices in Las Vegas, NV and St. Paul, MN to serve casino gaming markets throughout the United States.
In early 2012, Lawrence Sign combined with Nordquist Sign to unite the unique resources and capabilities of the two companies. Together, Lawrence Sign and Nordquist Sign offer their clients more than 175 years of experience in custom sign manufacturing and installation for all facets of the signage industry.