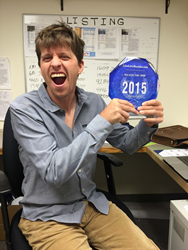 These properties are quite impressive and really make a grand statement that, 'you have arrived.'
Boulder, CO (PRWEB) August 12, 2015
Shawn Johnson details a future 40 Townhouse Project in the city of Westminster and an open floor plan house above the city of Boulder. One is an exquisite metropolitan townhome community in central Westminster, featuring Downtown Denver views. This 40 unit townhouse community, called Summit Point, is projected to already have a waiting list for the newly constructed townhomes. The other is a remodeled Pine Brook Hills family home above the city of Boulder, on an exceptionally open expansive lot, with views of surrounding Boulder County
MLS 770936.
"From Town Homes in the heart of the Metro Denver buzz to a peaceful home above the Boulder buzz, this 40 Home Development and listing are at opposite ends of the location spectrum, but they are both exceptionally well situated, designed and constructed," said agent Shawn Johnson. "These properties are quite impressive and really make a grand statement that, 'you have arrived.'"
Summit Point is set back from Hwy 36 for quiet, private living, yet an easy commute to Boulder or Denver and walking distance to the RTD and FasTracks B-Line, which services all of Denver Metro, and is the future connection to Boulder. The three to five bedroom urban townhomes includes many high-end designer touches like travertine tile, hardwood floors, maple cabinets, granite counters, stainless steel appliances and a breakfast bar. There is two car garage parking, connected to the main floor for safety and ease of access.
Own a perfect three bedroom home that is located in Pine Brook Hills, only seven minutes to the heart of Boulder, but amid a peaceful mountain setting with dramatic city light views of surrounding Boulder County. The remodeled home features a light-filled open floor plan with new red oak hardwood flooring, new air conditioning and newer Anderson windows and doors. Both main bathrooms have been remodeled, part of a $110,000.00 remodel, along with a new expanded rebuilt deck and new limestone veneer façade on the house. The house is accessible by paved road and driveway.
With twenty-eight years of experience, RE/MAX of Boulder, Inc. agent Shawn Johnson, has garnered accolades for his work, including the Best of Boulder Team Award and the Platinum Award. He grew up in his father's construction business in Boulder County Colorado, and got his start in real estate by representing his father's subdivision development and builders. Shawn eventually added home lending to his resume, by starting his own home lending company. He eventually directed all of his focus from the lending and financial side of things to real estate, working with buyers and sellers directly. He helps his buyers find their dream homes and features his seller's properties with his one of a kind site, called liveloveboulder.com. He works throughout Boulder County, with a wide variety of homes and price ranges.
About Shawn Johnson of RE/MAX of Boulder, Inc.
The RE/MAX story actually began in Denver in 1973 with a single office. Now it is a global real estate network of franchisee owned and operated offices with more than 100,000 sales associates. Shawn Johnson's office is located at 2425 Canyon Blvd #110 Boulder, CO 80302. For more information, please call (720)204-0618.
About NALA™
The NALA offers local business owners new online advertising & small business marketing tools, great business benefits, education and money-saving programs, as well as a charity program.
PR Contact:
news(at)thenala(dot)com
805.650.6121, ext. 361