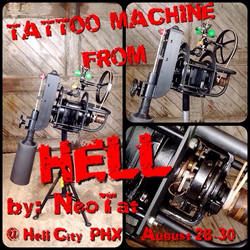 One Hell of a Big Tattoo Machine
Phoenix, Arizona (PRWEB) August 11, 2015
August 30, 2015 at 1 PM at the Hell City Tattoo Festival held at the historic Biltmore Hotel and Resort in Phoenix Arizona. The Monsters of Schlock in cooperation with NeoTat will attempt to set a new Guinness World Record of a tattoo done using the worlds largest Tattoo Machine.
The great Prof. Burnaby Q. Orbax along with his partner in crime, Sweet Pepper Klopek, will be tattooing with a Monster sized tattoo machine built by the NeoTat mad scientist Ray Webb. A chance meeting of these guys in Nova Scotia more than a year ago started the wheels turning, so Ray devised a diabolical plan to build a tattoo machine just for this purpose. This machine weighs more than 400 times a normal NeoTat tattoo machine and is built using antique components that have come from an infamous brothel in Miami Arizona, the Keystone Hotel.
Prof. Orbax and Mr Klopek will travel from the great white north, Ontario Canada, to add yet another to their list of Guinness World Records and Mr Webb will be helping them do so, or at least working to keep this contraption running.
Come prepare to witness a wild show that day when The Monsters of Schlock use the NeoTat Tattoo Machine from Hell to tattoo some poor soul at the 13th annual Hell City Tattoo Festival, August 28 - 30.