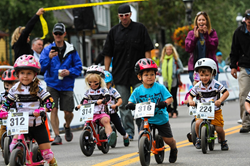 We find it part of our mission to make sure families have grand vacations, and part of that is being healthy and active
Breckenridge, CO (PRWEB) August 13, 2015
Breckenridge Grand Vacations (BGV) hosts the 3rd Annual Strider Challenge on Thursday, August 20 at 12 p.m. in Breckenridge. Kids aged 2-5 dash down Main Street through a one-block course, complete with cones, ramps and other challenging obstacles.
The racers of the Breckenridge Grand Vacations Strider Challenge compete on a portion of the same course as the cyclists of the USA Pro Cycling Challenge, crossing the same finish line as the professionals. The professionals are expected to complete Stage 4 at approximately 3:45 p.m.
Speed, agility and cuteness are put to the test in this fun race, designed to introduce kids to healthy living. According to the nonprofit organization, The Axel Project, "[…] a healthy, happy life begins with bikes." Breckenridge Grand Vacations aligns with the views of The Axel Project and has named them the beneficiary of fundraising efforts associated with the race.
"We believe in a healthy lifestyle. We believe in family activities. We have over 20,000 families that own with us, and we find it part of our mission to make sure families have grand vacations and part of that is being healthy and active," says Ginny Vietti, vice president of marketing for Breckenridge Grand Vacations.
Breckenridge Grand Vacations says they will continue to host the BGV Strider Challenge as long as the USA Pro Cycling Challenge comes to Breckenridge. Information about the 2015 race can be found at http://www.BGVStriderChallenge.com.
About Breckenridge Grand Vacations:
Breckenridge Grand Vacations (BGV) is the parent company of multiple award winning properties including Gold Point Resort, Grand Timber Lodge, Grand Lodge on Peak 7, and now the new Grand Colorado on Peak 8. Since 1984, Breckenridge Grand Vacations has been providing vacation ownership opportunities for over 20,000 families. The company was honored with the ACE Employer of the Year award in 2015 from the American Resort Development Association (ARDA), and is consistently named as an employer of choice by The Denver Post. BGV has been recognized as one of the most successful, independent developers in the industry. With the motto, "Our family commitment, always Grand Vacations," BGV defines their success by how much they positively impact the lives of their owners, guests, community and employees. Visit http://www.breckenridgegrandvacations.com for more information.