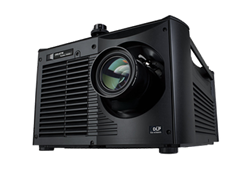 It is a testament to Christie's exceptional reputation for quality that the world's most innovative and creative forces in digital technology trust their presentations to Christie projection systems
Los Angeles, California (PRWEB) August 12, 2015
Christie® is lighting up the screens at the Computer Animation Festival, as part of the 42nd International Conference and Exhibition on Computer Graphics and Interactive Techniques (SIGGRAPH), taking place August 9-13 at the Los Angeles Convention Center. Screens throughout the festival and conference programs use Christie projectors, including the CP4230, D4K3560 and the Christie Roadster HD20K-J in Main Halls K and B.
The Computer Animation Festival is a leading annual showcase for some of the world's most influential digital films, curated from almost 500 submissions. As an official qualifying festival for the Oscars® since 1999, several works shown at the Festival have gone on to win a "Best Animated Short" Academy Award®. Submission categories include scientific visualizations and simulation, computer animated shorts, and animated feature film, among others. For the creators of these pioneering films and videos, the brilliant color and razor-sharp images delivered by Christie's digital projectors ensure an accurate presentation of their artistic visions. Images will pop off the screen and come to life, thanks to the industry-leading performance of the Christie CP4230 and the Christie D4K3560 – a 3DLP® projector with Christie TruLife™ electronics, which delivers industry-leading ultra high resolution, high frame rate video with unprecedented image fidelity.
Christie is providing projection technology for the Computer Animation Festival's Production Sessions where the world's most elite and talented computer graphic experts explain their processes and techniques for creating compelling content. Sessions include "Building San Fransokyo: Creating the World of Disney's 'Big Hero 6,'" Industrial Light & Magic 40th Anniversary Presentation, and Real-Time LIVE! a showcase of the latest trends and techniques in interactive, real-time graphics.
"It is a testament to Christie's exceptional reputation for quality that the world's most innovative and creative forces in digital technology trust their presentations to Christie projection systems," said Roy C. Anthony, senior product manager at Christie and production sessions chair at SIGGRAPH 2015. "As a Platinum-Level Sponsor, we look forward to offering another dazzling display of great digital art and innovations to this year's SIGGRAPH attendees."
About Christie
Christie Digital Systems USA, Inc. is a global visual and audio technologies company and is a wholly-owned subsidiary of Ushio, Inc., Japan. Consistently setting the standards by being the first to market some of the world's most advanced projectors and complete system displays, Christie is recognized as one of the most innovative visual technology companies in the world. From retail displays to Hollywood, mission critical command centers to classrooms and training simulators, Christie display solutions and projectors capture the attention of audiences around the world with dynamic and stunning images. http://www.christiedigital.com.
"Christie" is a trademark of Christie Digital Systems USA, Inc., registered in the United States of America and certain other countries.
DLP® is a registered trademark of Texas Instruments
Oscars® is a registered trademark of the Academy of Motion Picture Arts and Sciences
Academy Award® is a registered trademark of the Academy of Motion Picture Arts and Sciences