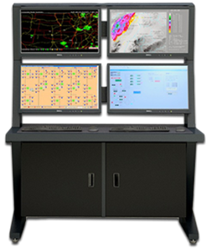 AgileVIEW Series 2 was carefully designed to maximize an operator's ability to "customize" his or her workstation
La Grange, Texas (PRWEB) August 12, 2015
ImageVision, Inc., an industrial furniture manufacturer specializing in control room furniture, is pleased to announce the AgileVIEW Series 2 product line of control consoles. Designed with new features to give operators greater flexibility and enhanced ergonomics, it stands on the shoulders of the original AgileVIEW console, one of the top-selling steel workstations on the market.
AgileVIEW Series 2 was carefully designed to maximize an operator's ability to control or "customize" his or her workstation. It easily adapts to diverse and changing operator preferences and different job demands, equipment, and applications—straight out of the box. It also integrates seamlessly with existing original-series AgileVIEW furniture.
The key feature of AgileVIEW Series 2 is reduced space between monitor tiers to accommodate the shorter aspect ratio of newer widescreen monitors. AgileVIEW Series 2 also features a new standard monitor mount, CHIEF KWP130B, that allows 4 1/2" integrated vertical height adjustment with easy pivot/tilt functionality.
Other ergonomic design aspects and features existing customers say they appreciate about AgileVIEW have been maintained, including the option of seated or standing consoles. This newest product line seamlessly integrates with the technical environment at hand (a/v, cables, etc.) and is easy to adjust to suit an operator's preferences.
Standard with the AgileVIEW Series 2 line of control room consoles is the same heavy duty, all-steel construction that all ImageVision products are known for. In addition to their longevity, AgileVIEW Series 2 consoles are highly modular and can adapt to fit any floor plans and/or operational requirements. Past AgileVIEW customers have noted that the streamlined design prevents clutter and enhances productivity.
Customers may also choose custom colors and/or designs for powder coat finishes and laminate surfaces, so that AgileVIEW Series 2 complements the existing style and color scheme of their workspaces.
AgileVIEW Series 2 is already off to a positive start with customers. Jeff DeRight, with ADM Bio Products, told ImageVision that he appreciated "The durability of the furniture… [and] the ease of setting it all up. The operators like the room it gives them."
About ImageVision, Inc.:
ImageVision is a leading supplier of all steel control room furniture and consoles, designed for continuous use in demanding environments. All ImageVision consoles are made in the USA and ship fully assembled for ease of installation. ImageVision is a privately held company, headquartered in La Grange, Texas.
Follow ImageVision on Facebook, Twitter, Google+, and LinkedIn.