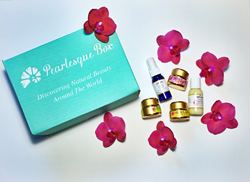 "These products' ingredients are sourced from nature which after all is where we come from and help to restore natural radiant skin."
Los Angeles, CA (PRWEB) August 12, 2015
Committed to bringing the U.S. the best natural skincare products from around the world, Founder and CEO Rochelle Truxal launches Pearlesque Box, the latest beauty subscription box based out of Los Angeles, CA. Available to subscribe now (first box to ship in September), Pearlesque Box will educate beauty fans on the best skincare regimens proving that you do not have to hide underneath makeup for a natural glow.
Currently underway, Pearlesque box, http://www.pearlesquebox.com, will feature one brand each month from a different region of the world. Allowing you to discover the world's hidden gems through a minimum of 1 full-size and 2 to 4 travel size products from each brand, for $39.95/month. No more samples thrown into a box! Shipping to US residents is free. The first box will go out in September and feature Honey Girl Organics made in Oahu, Hawaii. In addition to the box, users will have access to the Pearlesque Blog including brand content, news and advances in skincare and expert interviews from leading skincare experts, industry professionals and beauty bloggers.
University of Michigan Alumni and entrepreneur, Rochelle Truxal, decided to pursue her love of skincare and fill a void in the market by launching Pearlesque Box. From sharing her findings with friends, family and colleagues, she found her calling and has gone on to share these results with the rest of the world. Join Truxal through her adventures in discovering the latest advances in natural skincare.
Resulting from Rochelle's travels, the September box will highlight Hawaiian based handcrafted luxury line, Honey Girl Organics. Said best by the creators, "these products' ingredients are sourced from nature which after all is where we come from and help to restore natural radiant skin." Try five hand selected treatments to add to your daily beauty regime and start your journey to a healthier younger looking you!
"In my personal experience uncovering new beauty secrets, I found a gap in the U.S. market to fulfill by sharing my findings and educating beauty fans of the latest natural products and developments around the world with skincare", said Rochelle Truxal.
*Users can subscribe starting now for the one-time discount of 10% off one months box when you subscribe on http://www.pearlesquebox.com, using code PEARL10.
About Pearlesque Box: Pearlesque, the skincare focused subscription box, provides the purest natural and scientific ingredients to revitalize your skin to its best state. No more samples thrown into a box! No more hiding behind makeup, embrace healthy skin with each box and its strict skincare regimen. Based in Los Angeles, Pearlesque is committed to searching the world for the best natural ingredients bringing new hidden gems to your doorstep. Discover and learn new techniques each month to treat your skin unveiling the best version of yourself. Every box will focus on one brand and include a minimum of 1 full-size and 2-4 travel size products. For more information check out http://www.pearlesquebox.com and join us on Instagram, Twitter, Pinterest and Facebook @pearlesquebox.
For media inquiries email PR@pearlesquebox.com.