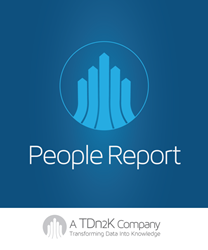 It is very comprehensive. It covers compensation and benefits information, many data points on HR administrative practices and trends to benchmark on support positions in the restaurant industry. - Liz Mayo | Brinker International
(PRWEB) August 13, 2015
TDn2K has announced the publication of the 2015 People Report Corporate Compensation and Benefits Survey (CCBS). This annual report will answer key questions for leaders in the restaurant industry regarding current and expected employee rewards practices, including valuable information about base pay and incentives as well as how restaurant companies are crafting attractive benefit packages in order to improve recruiting and retention in a tight labor market.
Over 130 brands participated in the annual survey including: Popeye's Louisiana Kitchen, YUM! Brands, Panera Bread, Zoe's Kitchen, Red Lobster, P.F. Chang's China Bistro, Brinker International and American Blue Ribbon Holdings.
"TDn2K's Corporate Compensation and Benefits Survey is very comprehensive. It covers compensation and benefits information, many data points on HR administrative practices and trends to benchmark on support positions in the restaurant industry. All and all, I find the CCBS to be a great tool," says Liz Mayo, Senior Director of Compensation for Brinker International.
The 2015 TDn2K Corporate Compensation and Benefits analysis provided some of the most compelling industry insights for restaurant brands across all segments including:
● On average, 68% of restaurant managers and 42% of restaurant hourly employees received a base pay increase in 2014.
● The industry segment that on average budgeted the highest merit pay increases for their restaurant managers in 2015 was upscale casual/fine dining.
● The department that represents the largest median percentage of total corporate office payroll costs is Operations/Field Supervision.
● Target bonuses for corporate employees at all levels (including executives) are expected to increase over the next two years.
● Sixty-five percent of participating companies offer some days of paid vacation to their restaurant hourly employees at one year of tenure.
● Although the Affordable Care Act has increased the percentage of restaurant companies that offer healthcare benefits to their hourly employees, about one out of every 10 companies have decided to not offer these benefits directly to their employees.
● The industry segment that has the lowest percentage of companies offering health benefits to their full time hourly employees is Casual Dining.
Results of this report are shared in aggregate form only with participating People Report members; no individual company's results will be shared publically. The report can be purchased for non TDn2K member companies, other members of TDn2K who did not participate in the survey have the option to purchase the report at a discounted rate. For more information, visit http://www.tdn2k.com or contact Sarah Atkinson (sarah.atkinson(at)tdn2k(dot)com).
TDn2K (Transforming Data into Knowledge) is the parent company of People Report, Black Box Intelligence and White Box Social Intelligence. People Report provides service-sector human capital and workforce analytics for its members on a monthly basis. Black Box Intelligence provides weekly financial and market level data for the restaurant industry. White Box Social Intelligence delivers unparalleled consumer insights and reveals online brand health. Together they report on over 32,000 restaurant units, over one million employees and $55 billion in sales. They are also the producers of two leading restaurant industry conferences: Summer Brand Camp and the Global Best Practices Conference, each held annually in Dallas, Texas.