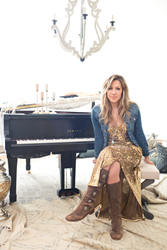 NASHVILLE (PRWEB) August 12, 2015
Yamaha Entertainment Group of America today announced that double-platinum recording artist, singer-songwriter Colbie Caillat is featured on the cover of the 28th edition of Yamaha All Access. The cover and feature story highlight Caillat with her state of the art Disklavier™ E3 model Yamaha C3X Grand Piano.
Caillat is a GRAMMY Award-winning distinguished Yamaha Piano Artist. She recently performed her new single, "Try" on Dancing with the Stars and said in our exclusive interview that it is her favorite song on her most recent album, Gypsy Heart. Caillat and fellow Yamaha Artist, Christina Perri, are currently on their Girl's Night Out, Boys Can Come Too Tour which includes 27 shows across 18 states. Caillat is a Southern California native who loves writing and hopes to start co-producing records in the future.
All Access is Yamaha Entertainment Group's official guide and exclusive backstage pass into the world of Yamaha. The magazine features 10 artists per issue, bringing readers closer to artists and the instruments they use to create their custom sounds. In addition to Caillat, this issue features artists David Choi, Justin Gilbert, Amos Heller, Troy Laureta, Eddie Palmieri, Erik Sandin, Alex Skolnick, SoMo, and Tay Strathairn. Viewers can experience a behind-the-scene look at Caillat's photo shoot by checking out this video.
To see more from All Access and go behind-the-scenes with Yamaha artists, click here.
About Yamaha Entertainment Group of America
Yamaha Entertainment Group of America is a boutique, one-stop shop, record label developed to be the champion of the musician with the backing power of the largest music manufacturer in the world. Yamaha Entertainment Group is branding, promotion, concert production, content development, product placement, tour support, piano logistics and artist relations, all rolled into one. Home to more than 3,600 talented artists, Yamaha Entertainment Group is responsible for the development and advancement of the Yamaha brand name through numerous artist related activities worldwide.
About Yamaha
Yamaha Corporation of America (YCA) is one of the largest subsidiaries of Yamaha Corporation, Japan and offers a full line of award-winning musical instruments, sound reinforcement and home entertainment products to the U.S. market. Products include: Yamaha acoustic, digital and hybrid pianos, portable keyboards, guitars, acoustic and electronic drums, band and orchestral instruments, marching percussion products, synthesizers, professional digital and analog audio equipment, Steinberg recording products and Nexo commercial audio products, as well as AV receivers, amplifiers, Blu-ray/CD players, iPod docking systems, home-theater-in-a-box systems and its exclusive line of Digital Sound Projectors. YCA markets innovative, finely crafted technology and entertainment products and musical instruments targeted to the hobbyist, education, worship, professional music, installation and consumer markets.
Contact: Michelle Cusator/Yamaha Entertainment Group
(615) 599-0800 x3387 (mcusator(at)yamaha(dot)com)