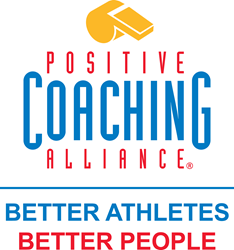 PCA and FieldLevel are exceptionally well aligned in their mission to empower coaches and their athletes.
Los Angeles, CA (PRWEB) August 12, 2015
Positive Coaching Alliance (PCA) -- a national non-profit developing Better Athletes, Better People through resources for youth and high school sports – has struck a partnership with FieldLevel, a specialized social network that aids student-athlete recruitment to colleges.
The agreement names FieldLevel as PCA's official recruiting partner and designates PCA as the official nonprofit partner of FieldLevel. The organizations will collaborate to create recruitment-specific online content for coaches, student-athletes and their parents, for placement within PCADevZone.org – PCA's website of free resources for youth and high school sports coaches, parents, administrators, and student-athletes.
PCA and FieldLevel also will promote each other and their co-developed content through social media channels, and FieldLevel will share relevant PCA content with the coaches and athletes who are members of FieldLevel's private social network. The partnership stems from both organizations believing strongly in the power of coaches and their unique ability to affect the trajectory of athletes' lives.
"I was first introduced to PCA's live workshops years ago while coaching a youth lacrosse team in Los Angeles and was amazed by the PCA program's ability to teach kids how to win both on the field and in life," said Kai Sato, FieldLevel's co-founder. "FieldLevel believes that all athletes deserve the opportunity to play college sports and recognizes that an athlete's coach plays an essential role in the recruiting process. We think that PCA is a perfect fit for the tens of thousands of coaches who rely on FieldLevel to get their players recruited to play in college and beyond."
Added Jason Sacks, PCA's National Director of Business Development: "PCA and FieldLevel are exceptionally well aligned in their mission to empower coaches and their athletes. "As a high school coach myself, I've seen firsthand how FieldLevel helps athletes get recruited. FieldLevel's proven approach and large population of coaches and athletes makes them the ideal recruiting partner for PCA."
About Positive Coaching Alliance
Positive Coaching Alliance (PCA) develops BETTER ATHLETES, BETTER PEOPLE through resources for youth and high school sports coaches, parents, administrators and student-athletes. In addition to hundreds of free audio-video and printable tips and tools at http://PCADevZone.org, PCA has partnered with roughly 3,000 schools and youth sports organizations nationwide to deliver live group workshops, online courses and books by PCA Founder Jim Thompson that help those involved in youth and high school sports create a positive, character-building youth sports culture.
PCA workshops and courses, which have impacted roughly 8 million youth, strive to transform high school and youth sports into a Development ZoneTM, where the goal is to develop Better Athletes, Better People and the following become the prevailing models in youth and high school sports:

The Double-Goal Coach®, who strives to win while also pursuing the more important goal of teaching life lessons through sports
The Second-Goal Parent®, who concentrates on life lessons, while letting coaches and athletes focus on competing
The Triple-Impact Competitor®, who strives to impact sport on three levels by improving oneself, teammates and the game as a whole.
PCA gains support from a National Advisory Board, including National Spokesperson and 11-time NBA Champion Coach Phil Jackson, and many other top coaches, athletes, organization leaders and academics who share PCA's mission.
About FieldLevel
FieldLevel is a private social network for sports recruiting and scouting. It exists to level the recruiting field, ensuring that college and professional teams can find the best athletes anywhere in the world. FieldLevel's strength stems from authenticity and trust in that it mirrors recruiting in the offline world but successfully empowers the process by leveraging technology.
FieldLevel started as an award-winning concept at USC's Greif Center for Entrepreneurial Studies and has grown into the dominant online recruiting platform in men's collegiate sports.
FieldLevel's proprietary social network was first launched in baseball and is now used by the vast majority of college football, baseball, basketball, and lacrosse teams as well as thousands of high schools. By properly connecting college coaches, high school coaches, and high school athletes in each sport, it has helped facilitate over 14,000 college commitments since 2013.
FieldLevel is used in over 20 countries, and the company is headquartered in Los Angeles.
Contact:
David Jacobson, Positive Coaching Alliance
Phone: 650-210-0808
E-mail: david_jacobson(at)positivecoach.org
Contact:
Taylor Grigsby, FieldLevel, Inc.
E-mail: tgrigsby(at)fieldlevel.com