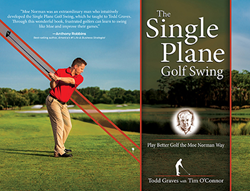 We are very proud to be recognized by Inc. 5000 as one of the fastest growing companies in the United States
(PRWEB) August 12, 2015
The Graves Golf Academy managed by Todd Graves, student of legendary professional golfer Moe Norman, and author of The Single Plane Golf Swing: Play Better Golf the Moe Norman Way, has earned the position of 1599 on the 2015 Inc. 5000 list of the fastest-growing private companies in America.
This achievement is something to be celebrated, and it puts the Graves Golf Academy in a prestigious group that includes other 2015 inductees such as Fitbit, Planet Fitness, and Smashburger, along with previous honorees like Microsoft, Under Armour, and GoPro. On average, the companies on the Inc. 5000 list have grown almost sixfold over three years.
"We are very proud to be recognized by Inc. 5000 as one of the fastest growing companies in the United States," said Graves. "It shows that we are accomplishing our mission: to help golfers around the world learn the easiest golf swing on the planet, and enjoy the great game of golf. "
The Graves Golf Academy teaches Moe Norman's Single Plane Swing golf technique to students across the country. Todd Graves carries on Moe Norman's legacy through the exclusive Single Plane Schools put on by the Graves Golf Academy. These schools offer hands-on instruction that is customized for individual players of all ages and skill levels.
"The Single Plane Swing simplifies the mechanics of the golf swing for all levels of players. It helps the golfer achieve the most important moment of the swing—impact, with less effort, less stress, and less pain," said Graves. "In training more than 5,000 golfers over the years, I've found that one of the most important benefits of this swing is that it protects the golfer's back while simplifying the game of golf."
The 34th Annual Inc. 5000 Conference and Gala celebrating these esteemed companies will be held October 21-23, 2015 at the JW Marriott Grande Lakes in Orlando.
For more information on Graves Golf Academy or the The Single Plane Golf Swing, please go to http://www.moenormangolf.com
###