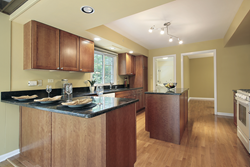 A residential remodeling projects not only add comfort and needed space, but also increase the financial worth of a home.
Concord, CA (PRWEB) August 13, 2015
A2Z Construction, a San Francisco Bay Area general contractor, has recently launched its new website to provide useful home remodeling information to homeowners who are interested in adding financial value and improved comfort to their homes.
"We design and create just about any type of project for the home -- kitchen redesigns, bathroom upgrades, new additions, foundation work and more," said Bruce Choi, owner of A2Z Construction. "Our customers generally have a good feeling for what they want, and it's are job to interpret their remodeling desires by offering solutions that work. These projects generally add significant financial value to a home."
In particular, A2Z Construction's new website features information about residential remodels, home repairs and includes a blog, which Choi calls "smart-value" home building projects. "A homeowner can upgrade their kitchen, for example, and the return on investment is well worth the initial cost to complete the work."
In fact, according to Remodeling Magazine's 2015 Cost vs. Value Report, the cost of remodeling a mid-range kitchen pays off nicely for San Francisco Bay Area homeowners. The ROI for a kitchen renovation is 117%, according to the report.
"To make the process easier for homeowners, I've written some informative blog posts on A2Z's website that show the financial and other benefits of some of these projects." A2Z Construction's new website includes many photos of A2Z's projects, providing good examples of the company's work, the culmination of Bruce's three decades of experience.
"I started doing construction work with my father who also was a general remodeling contractor, more than 30 years ago, so I know through experience what quality construction is all about – and it hasn't changed too much. Fades or styles change – but not quality, Choi emphasized. "Quality is really about work that stands the test of time. We give people what they want and know they will be happy with it for years, sometimes decades, after a job is completed.
He went on to say that the particular increase in value of home renovations will vary, depending on the neighborhood, the quality of the remodeling effort, and the home's current condition as well. "Interestingly," he said, "what goes inside the walls is more important than what goes on the outside. This is why you need to select a general contractor who is reliable and dependable."
Choi added that A2Z Construction makes sure the design and build steps are done precisely, from start to finish, for both planning and execution. "It can take more time, but paying attention to detail, doing a thorough job of electrical, for example, or installing sub-flooring, is critical for how a project holds up over time. Of course selecting quality goods is also crucial for durability and longevity."
Choi went on to express his satisfaction with A2Z Construction's new website, which "provides homeowners with some good tools to help them make smart decisions about remodeling, and get a clear understanding for the work A2Z Construction offers."
A2Z Construction is a residential remodeling contractor serving the San Francisco Bay Area. Owner Bruce Choi has more than 30 years of experience building quality, custom home remodels that are beautiful, functional and add financial value.
For further information:
Visit us at http://a2zcontractor.com/
Phone: 925-726-7722
bruce(at)a2zcontractor(dot)com
###