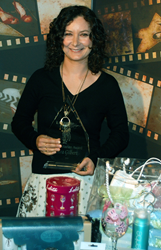 By Women for Eveyone
Beverly Hills, CA (PRWEB) October 13, 2015
The 11th Annual LA Femme International Film Festival (LAFIFF) announces that CBS Entertainment Diversity has joined the LAFIFF as a sponsor for this year's festival. This year CBS Entertainment Diversity will read the winning Pilot TV scripts for the festival and sponsor a networking after party.
LAFIFF launched this year with a TV Pilot category in Comedy and Drama due to a growing need from the industry to supply content for TV and the emerging media markets. This need has been spurred by such companies as CBS, NBC, ABC and new media companies such as Netflix, Hulu, and Amazon. Demand for qualified and talented TV writers is at an all-time high and this is due to these companies and Diversity Divisions such as CBS Entertainment Diversity seeking the next talented writer and/or showrunner.
LA Femme is a four day festival that screens more than 100 films and hosts special screenings, seminars, and networking mixers. The 2015 festival is the 11th season launching October 15-18, 2015 at the Laemmle Theatres in Beverly Hills on Wilshire Blvd. with amazing seminars sponsored by SAG-AFTRA, WGA West, The Governor's Office of Film and Entertainment State of Florida, and Columbia College Hollywood. Go to http://www.lafemme.org to purchase Early Bird Tickets. The festival culminates in an Awards Show honoring and celebrating Female Hollywood Entertainment Professionals and Celebrities, with MC / Comedian Sandra Valls and Dancer / Choreographer Nicole, Woods on October 18, 2015.
We have celebrated the careers of such notable talent, executives and professionals such as: Patty Jenkins (Monster), Jennifer Yuh Nelson (Kung Fu Panda 2), Angela Bassett (What's Love Got to Do With It), Virginia Madsen (Sideways), Diablo Cody (Juno), Vivica Fox (Kill Bill), Rosanna Arquette (After Hours), Lea Thompson (Caroline in the City), Katherine Fugate (Army Wives), and Wendi McLendon-Covey (Bridesmaids). The awards are presented annually at LA Femme Awards Ceremony honoring women with outstanding creative and professional entertainment careers.
Sponsors: CBS Entertainment Diversity, SAG-AFTRA National Women's Committee, (WGA) Writers Guild America West Women's Committee, The Governor's Office of Film and Entertainment State of Florida, The UPS Store Beverly Hills, Dollhouse Makeup and many more.
Media Inquiries: To schedule an interview with Leslie LaPage, please contact LA Femme Film Festival at (310) 441-1645 or email llapage@lafemme.org
Visit the website at http://www.lafemme.org