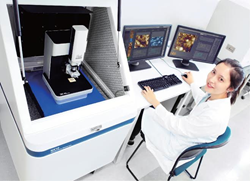 Atomic Force Microscopy (AFM) is crucial in characterizing the morphology of these films to assess their effectiveness in sensing. Also as a method of understanding the optimization methods for thin film formation.
Santa Clara, CA (PRWEB) August 12, 2015
Park Systems is hosting a webinar on Thursday Aug 13 at 9am PST on Molecular Imprinted Polymer Films. Molecular imprinting is used to create biosensors, an instrument that uses biological molecules (bioreceptors) to detect other biological or chemical substances. Biosensors are highly sensitive, selective, and can be made into very small devices that are portable with rapid and accurate results, making them essential for detection of contaminants in food, water and for detection of infectious diseases.
The Environmental Protection Agency can use biosensors to identify pesticides, insecticides, and herbicides that contaminate natural water supplies quickly and accurately. The Food and Drug Administration can employ portable biosensors to identify and contain chronic and infectious diseases. Biosensors are advancing healthcare by adapting methods to provide rapid patient response tests. This exploding market has a wide potential and is predicted to reach 22 million by 2020.
Park Systems is offering a webinar by Profession Advincula of Case Western University that will provide the principles for sensor design, chemistry of portable sensors and teach how to design smart polymer films and methods of characterization coatings. He will focus on the enzyme and receptor-inspired chemistry of polymerization around a molecular template in a lock-key mechanism of producing sensors. These methods have been modified to use electropolymerizable monomers that interact with an analyte and result in highly sensitive, selective, and portable sensors. Such sensors have been used to detect everything from pollutants, endocrine system disrupting chemicals, nerve agents, and more. These biosensors are highly sensitive and selective and can be made into very small devices.
"Atomic Force Microscopy (AFM) is crucial in characterizing the morphology of these films to assess their effectiveness in sensing. Also as a method of understanding the optimization methods for thin film formation," explains Dr. Advincula. "Advancements in Nanosciences and AFM are evolving in tandem to support ever shrinking matrices of functionality in development at nanoscale."
Biosensors are quickly adapting new technology and methods of molecular imprinting give rapid response making it a valuable tool across multiple industries like environmental protections to food safety to healthcare and military. Molecular imprinting is useful for drug development, separations technologies, portable sensors, drug testing, detection of bombs, and analysis of pollutants, industrial waste management, and more. Molecularly imprinted polymers (MIPs) with specific recognition abilities as versatile materials are being increasingly developed for diverse applications in various fields, especially in food analysis to detect and avoid the spread of bio hazardous chemicals and can also be employed for other homeland security measures such as airport screening for passengers and cargo.
About the Webinar
Title:
Date: August 13, 2015
Time: 9am PST
To Register, go to: http://www.parkafm.com/index.php/medias/nano-academy/webinars/115-webinars/488-nanomaterials-webinar-aug-13-2015
Pre-requisite: Knowledge of organic chemistry, polymerization, and electrochemical methods is preferred but not required.
About Prof. Rigoberto Advincula
Prof. Rigoberto Advincula, Director of the Petro Case Consortium, is recognized industry-wide as an expert regarding polymer and materials challenges of the oil-gas industry. He is currently a Professor with the Department of Macromolecular Science and Engineering at Case Western Reserve University and is the recipient of numerous awards including Fellow of the American Chemical Society, Herman Mark Scholar Award of the Polymer Division, and Humboldt Fellow.
About Park Systems
Park Systems is a world-leading manufacturer of atomic force microscopy (AFM) systems with a complete range of products for researchers and industry engineers in chemistry, materials, physics, life sciences, and semiconductor and data storage industries. Park's products are used by over a thousand of institutions and corporations worldwide. Park's AFM provides highest data accuracy at nanoscale resolution, superior productivity, and lowest operating cost thanks to its unique technology and innovative engineering. Park Systems, Inc. is headquartered in Santa Clara, California with its global manufacturing, and R&D headquarters in Korea. Park's products are sold and supported worldwide with regional headquarters in the US, Korea, Japan, and Singapore, and distribution partners throughout Europe, Asia, and America. Please visit http://www.parkafm.com or call 408-986-1110 for more information.